Last Sunday I spent the day volunteering at the 10th Annual 2014
Calico Trail Run 30k/50k
Race. This race starts and finishes in the
Calico Ghost Town
and is operated by and benefits the non-profit organization Discovery Trails.
(A little about Calico and Discovery Trails at the end of this post)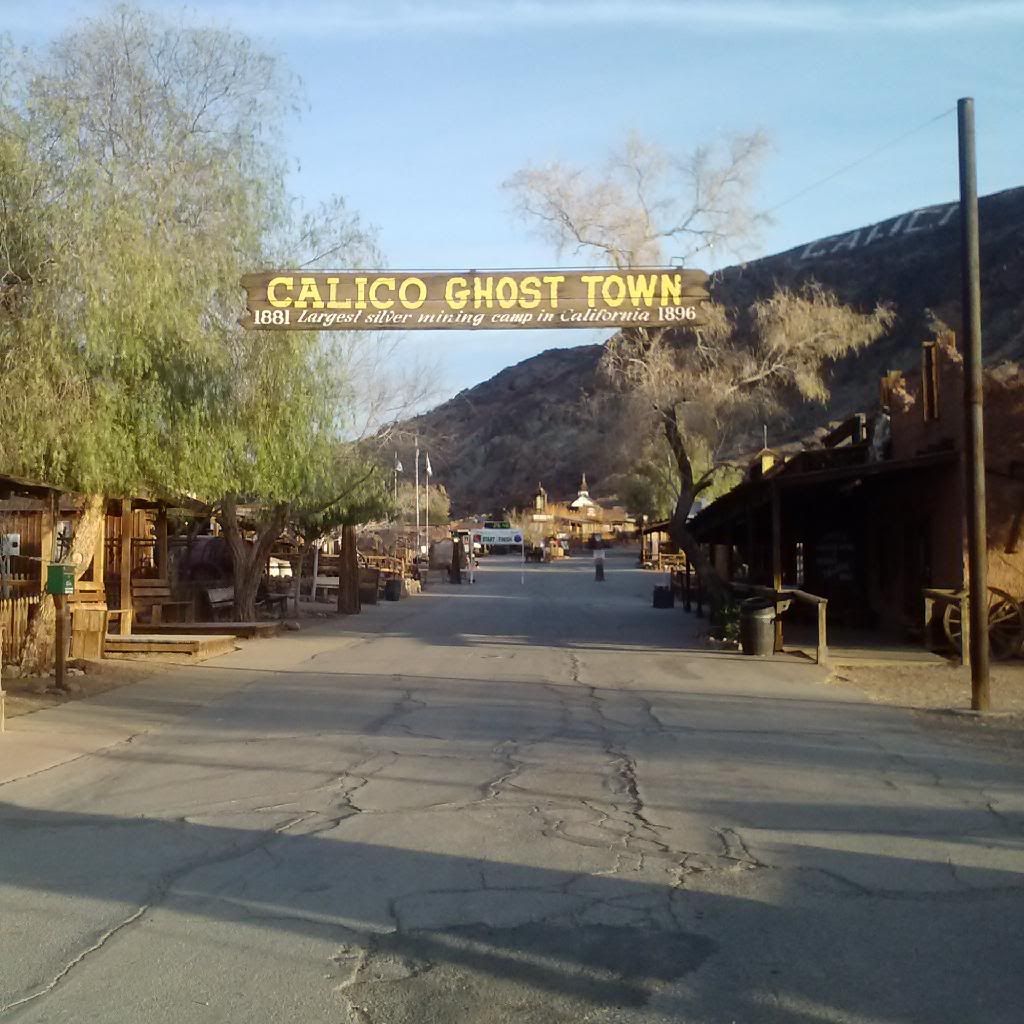 The entrance to Calico
I am actually kind of embarrassed that I didn't even know about this race until about a month ago. It is only 10 miles from my house for Pete's sake! Since I didn't know about it in time, I could either suffer though a race that I am really not prepared for or volunteer. Of course I chose the
lazy
smart option. I emailed the race directors and was told to just show up between 5:30am-5pm and they would figure out where to put me. This was a stark contrast to the couple of
rally races
and
running races
I have volunteered for. They usually are much more organized and assign me to a team kind of thing.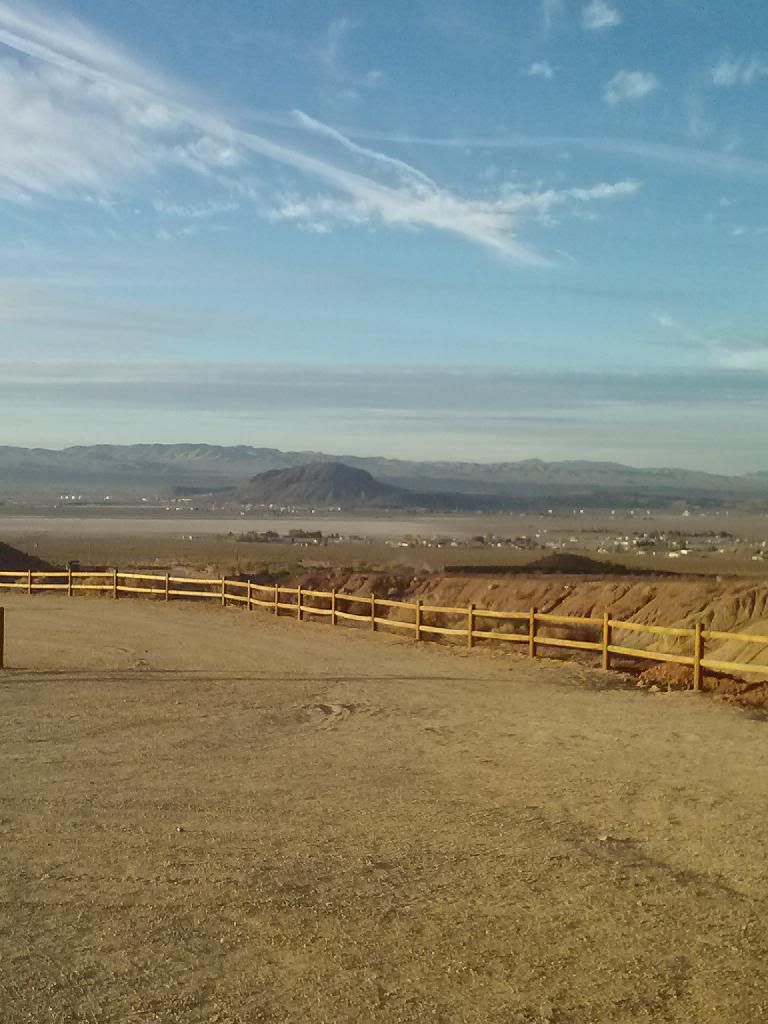 View from the parking lot.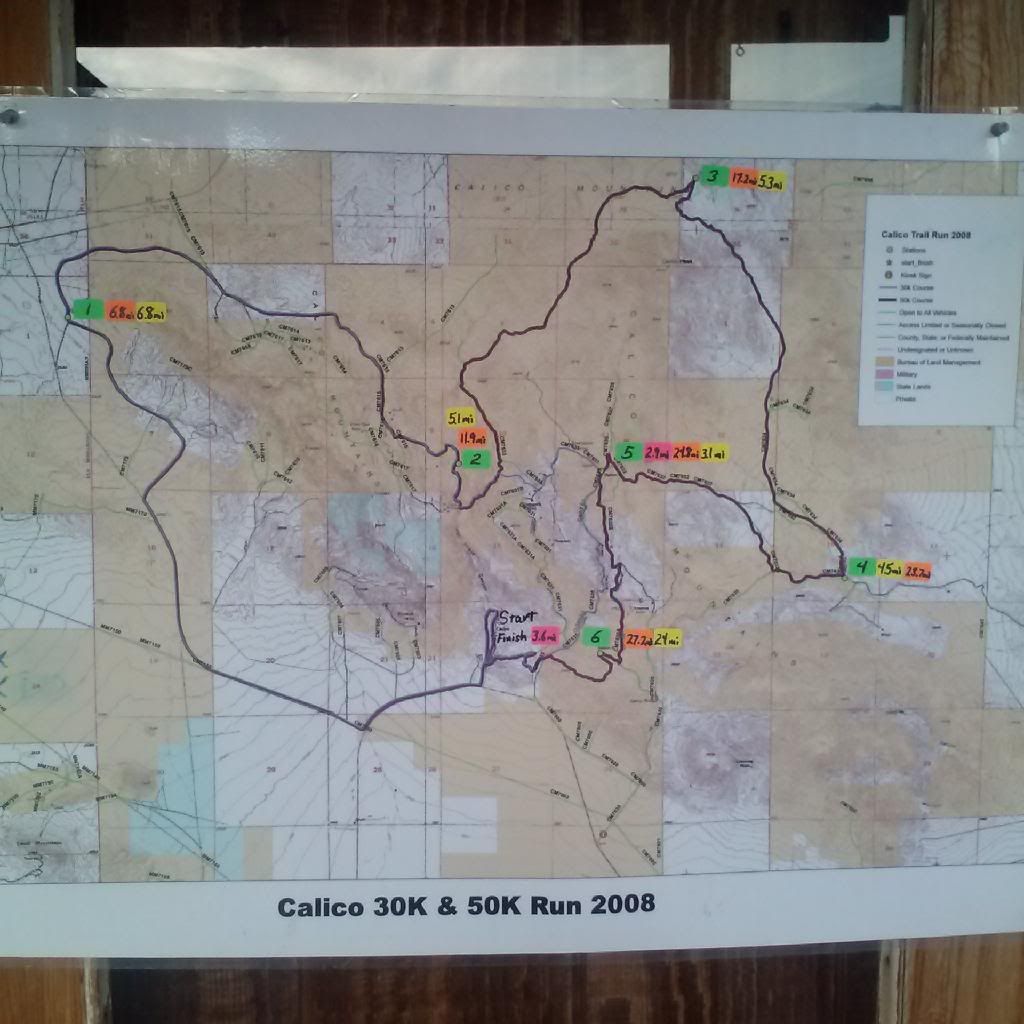 Course Map
I kind of wanted to work one of the first couple of aid stations on the course so I arrived before 6am. Once I arrived I linked up with one of the race directors and he let me know that everything is running smoothly and after the race starts he could use me. So no aid station for me, maybe next time. My initial thought was "F this!" and storm off (just kidding, I really wanted to volunteer). I am glad I stuck around though because I got to work the finish instead which ended up being an amazing experience. I really enjoyed being able to cheer for all the runners as they finished and hand them their finisher's key chain. I witnessed a lot of emotions from the runners and it was fun listening to them and hearing about what they experienced out on the course.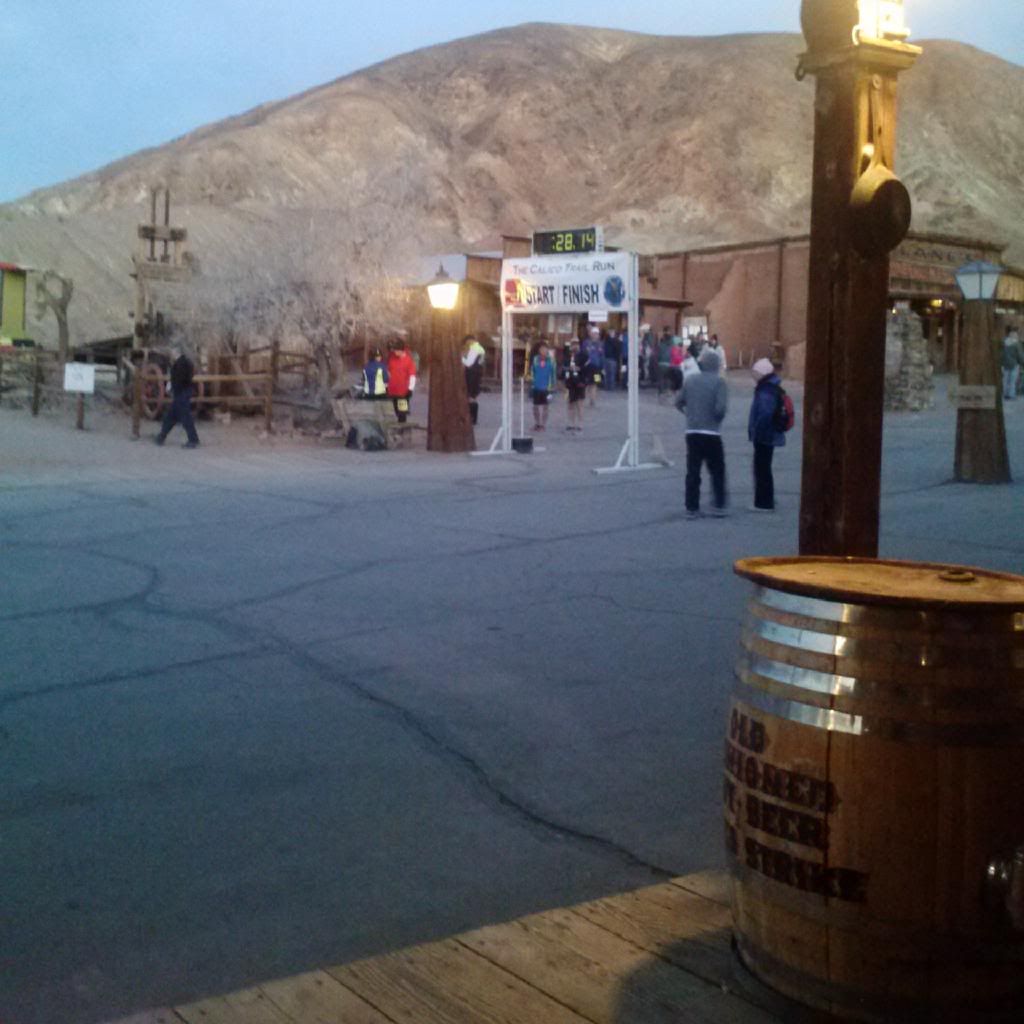 Hanging out waiting for the race start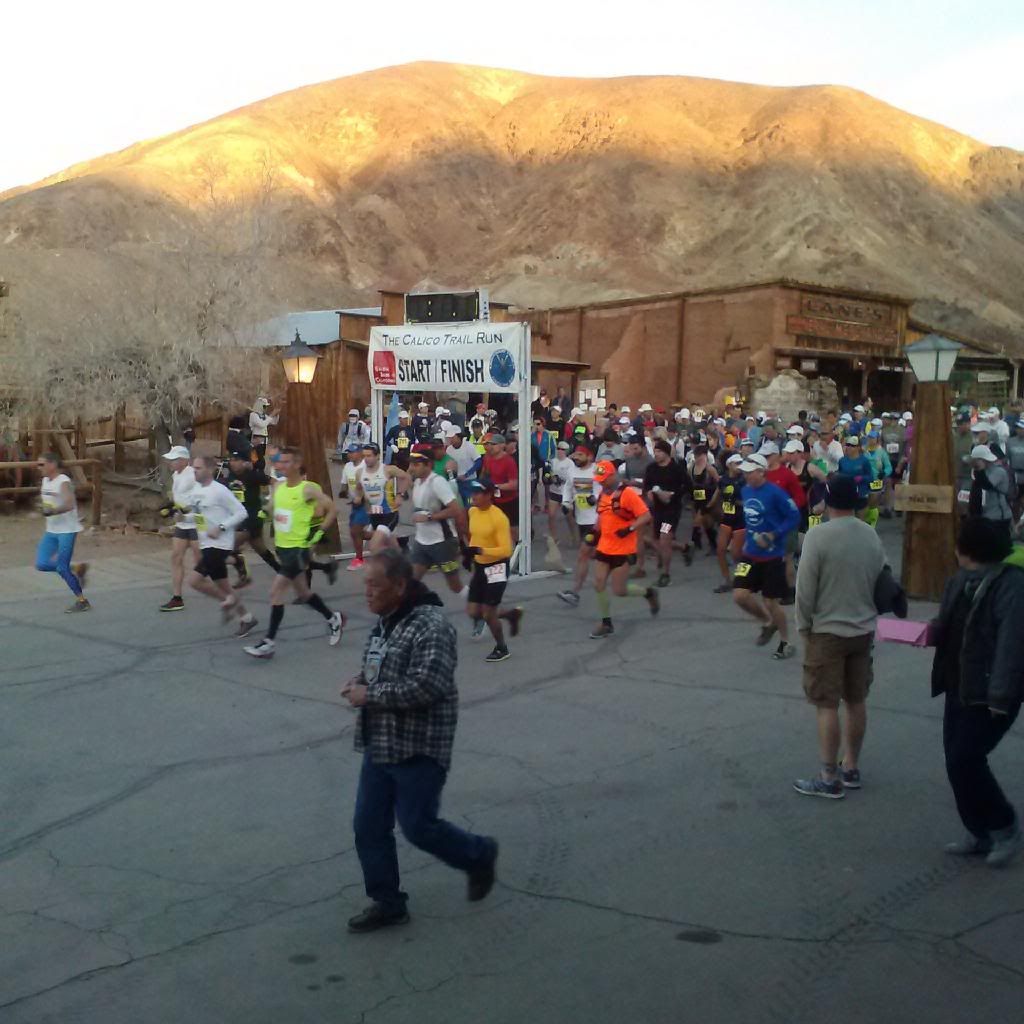 The race start. The Guy in the flannel shirt was 1st overall. lol :)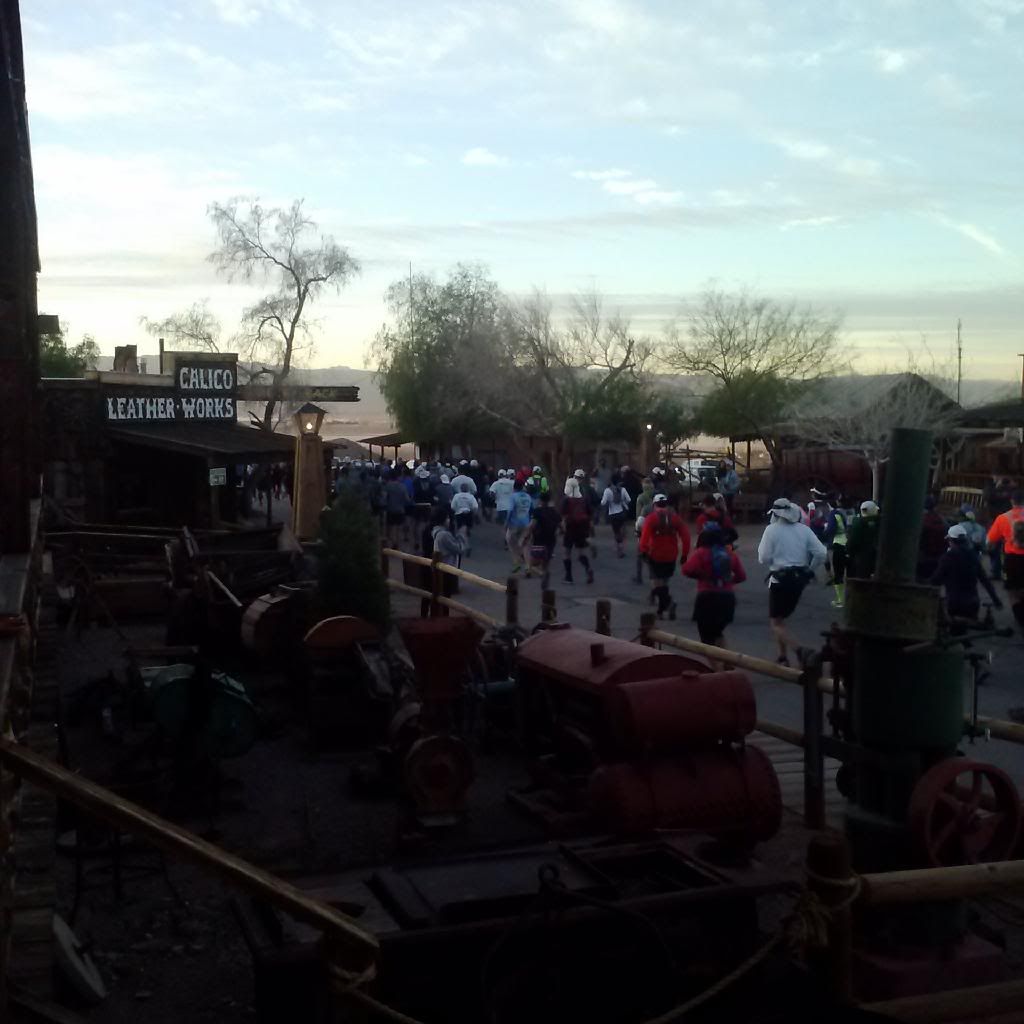 The runners being ran out of town.
What I Liked
The race was small and only had 159 runners. This made it possible to spend time with any finisher that wanted to tell me about their race as I was handing them a finisher's key chain. This was awesome because I am a runner that likes to talk about running. Another benefit for being a small event is that the results were updated on the website within minutes of a runner finishing.
One other great thing about the race is that it finishes and ends in the Historic Calico Ghost town here in Southern California. It is the perfect place for your family and friends to spend the day while they wait for you to finish the race.
The awards were great and original. The top 3 in each age group and gender received a cut and polished Calico Agate rock award that is from the Calico Mountain and is hand painted by a local artist. The winners were even able to choose what and how they wanted their names painted on it right there on the spot. Plus the finisher's awards were locally hand made leather key chains.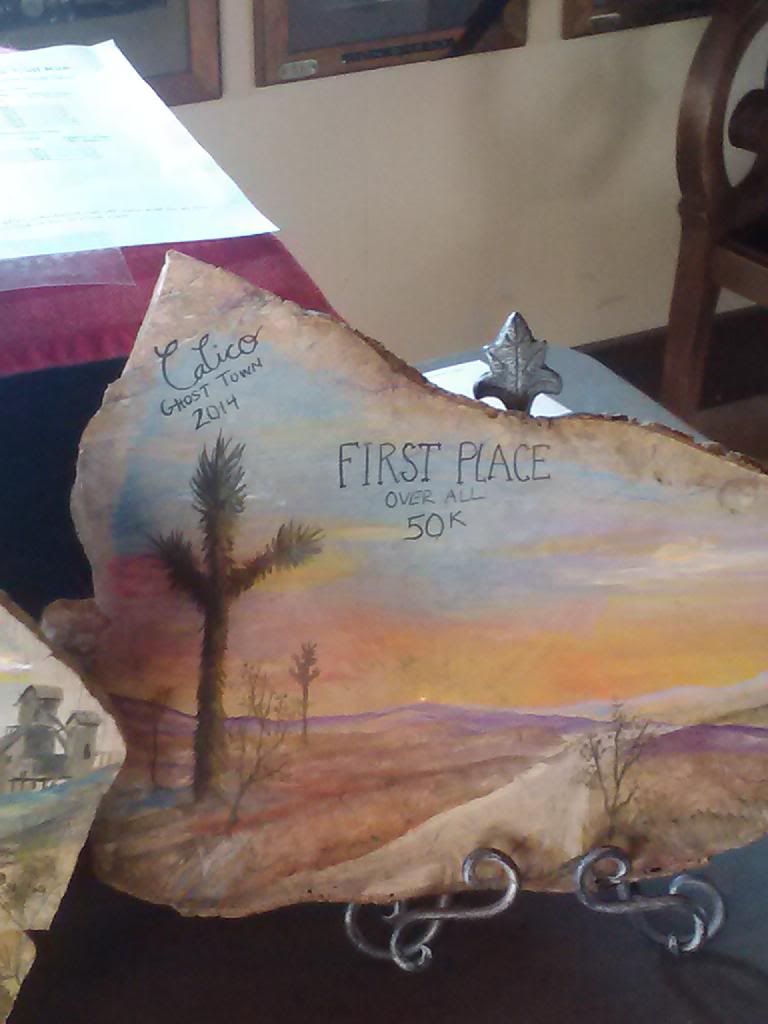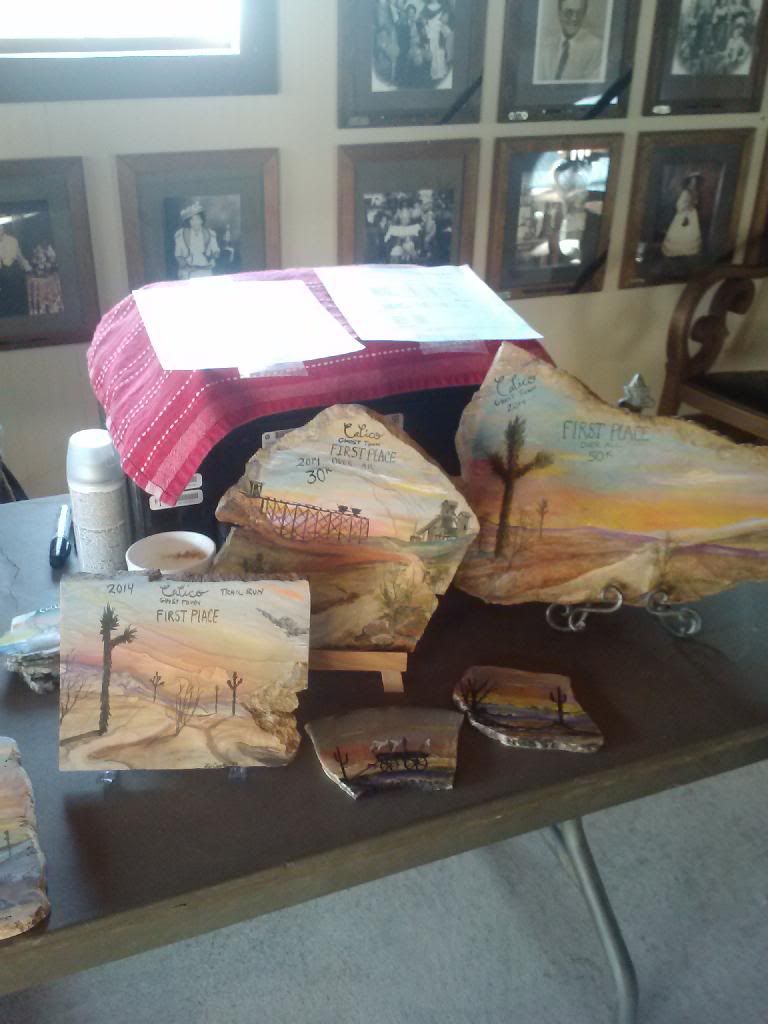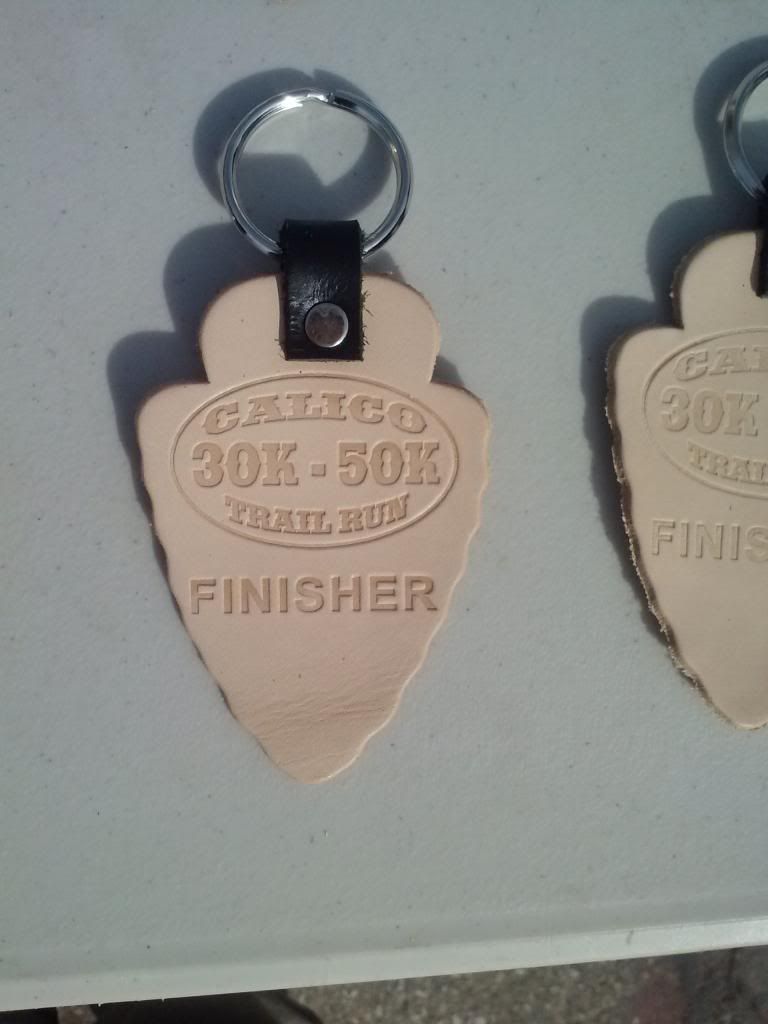 What I Didn't Like
I seriously haven't thought of anything that doesn't make me sound overly critical or entitled. The aid stations were stocked and the finisher's area had food and water. But there wasn't a huge selection and everything was in limited supply (except for water, there was lots and lots of water). So the late finishers didn't have much left for them. It is a small event though and this kind of thing is expected to help keep the cost of the race low ($65 for an Ultramarathon!)
Summary
Overall I had a lot of fun. Had a great time working with the other volunteers. I really enjoyed the atmosphere and spending the day talking to runners and hanging out in Calico. Even the food from the Calico Restaurant was amazing and helped keep me going. I spent 10hrs out there and wouldn't hesitate to do it again next year.
About Discovery Trails
Please note: The Calico Trail Run is organized by "Discovery Trails", a 501(c)3 non-profit organization. We are a 100% volunteer organization (nobody is paid a cent) that is dedicated to helping educate our school kids about the values of the amazing Mojave Desert. After all race expenses are paid, 100% of the profits are given to educational sources to fulfill our above stated mission. Thank you for participating in the Calico Trail Run and helping us educate our kids about the Mojave Desert.
Calico History
Calico Ghost Town, founded in 1881, is a historic silver mining town 10 miles north of Barstow, California. Purchased in 1950 by Walter Knott of Knott's Berry Farm, the town was restored to it's glory of the richest silver strike of the 1800's. The silver mining stayed strong until the late 1890's when the world value of silver fell to pennies on the dollar. Fortunately for the town of Calico, rich deposits of borax were discovered in the Calico Mountains in the early 1890's. Mining still continued until around 1910 when large deposits of Borax were discovered a lot closer to Los Angeles near a town now know as Boron, CA. Walter Knott donated the Town of Calico to the County of San Bernardino in 1967. Since then it has been a County Regional Park, dedicated to preserving the towns history.
Would you rather participate in a small event with less than 1000 racers or the larger races with over 1000 racers? What about races over 10,000 runners?