Ok, I need everyone to check their pockets for my stuff. I am missing my bike air pump and my handheld Garmin GPS unit that I use for Geocaching. I am sure that it must have been one of those mischievous "Elf on the Shelfs" that were running around in December creating all kinds of havoc. I doubt that it was my fault and that I misplaced my stuff in the "black hole" that is my garage. :) Well anyways, until I can find my bike pump I can't ride my bike. I somehow got a flat tire a couple weeks ago and now my bike has been placed into the "black hole". I am sure I will come across my bike pump and than not be able to find my bike. That is just how my luck goes sometimes.
Other than misplacing my stuff I have been on recovery from my
race
the other weekend. My recovery plan is the same as the last time I had a
Xterra
race. I took nearly all week off from running but did do some light cross training. I wasn't planning on running last Saturday but decided to go ahead and run a few easy miles for #megsmiles. It ended up being 3 miles at at a 9:25 pace.
Hokas were still dirty from the race.
It is always sad to hear about a runner, cyclist, pedestrian getting injured or killed by careless drivers.
Here is a little info that I got from the #megsmiles facebook page.
Meg Cross Menzies
was tragically killed by a drunk driver while out for her morning run on January 13, 2014. As an avid runner, member of the
Richmond Road Runners Club
, and Boston marathoner, she was a member of the running family nationwide. In her honor, our hope is to raise awareness of drunk driving, texting and driving, and overall safety of runners and cyclists everywhere.
This Saturday, January 18, 2014, no matter what your distance, no matter where you live, run for Meg. Take in the fresh air, be
aware of your surroundings, keep your headphones on low, feel the heaviness in your lungs, the soreness in your legs, and be grateful for it--for all of it. The sweat, the pain, the wind, the cold…everything. Be grateful for that moment.

Feel free to post pictures of yourself pre-run or post-run, post your distance, post your thoughts, prayers, condolences with the hashtag #megsmiles. Twitter, Instagram, Facebook. Let all runners unite together and remember the loss of a beautiful spirit. It's not a coincidence the hashtag reads either "Meg's Miles" or "Meg Smiles." She will be smiling on all of us forevermore.
I had Monday off for Martin Luther King Jr. day so I decided to go for a faster paced run. I did 3.5 miles at a 9:11 pace.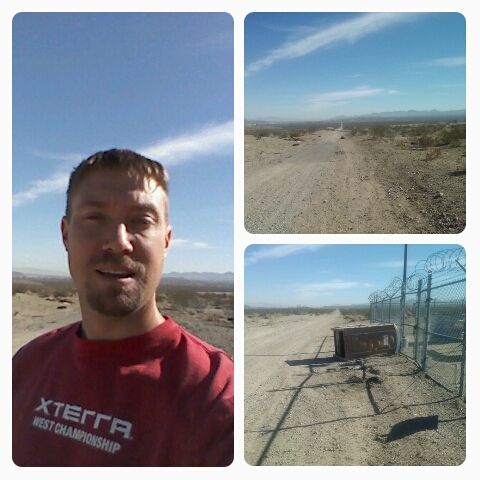 Temperature was already in the 60s when I started my run. Also a port-a-potty for no particular reason. :)
So my recovery is going well, I will continue taking it fairly easy the rest of this week and than I'll be back to training again. The Calico Trail Runs 30k and 50k is a local race this upcoming Sunday, Jan. 26th. I actually didn't know anything about it until about a month ago. I won't be able to run it so I will be there trying to volunteer. So if anyone is running it and needs anything let me know.
Everyone be safe out there and be aware of your surroundings.