It now has been a couple of days since my half-marathon trail race on Sunday. It was a very hard course and I am sore from my toes all the way to my shoulders. Seriously, that is no exaggeration, nearly every muscle is sore. This race was the hardest race I have ever done. I knew that the elevation inclines and declines were going to be hard but it really was much worse than I had imagined. I am glad that I didn't go on the course preview run a month ago because I probably would have freaked myself out knowing what to really expect on this course. So in this instance I think ignorance really helped me out.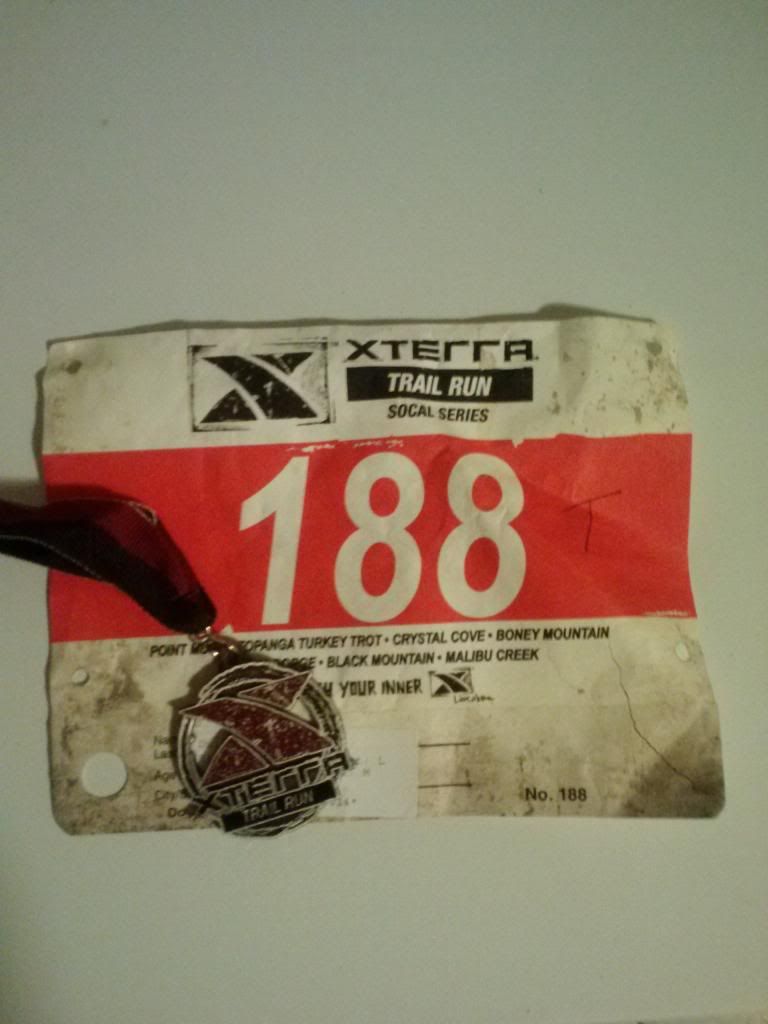 Although I felt like I got ran over as my bib suggests, I didn't.
Just like all the other Xterra races I have ran, there were amazing views, amazing volunteers, and a challenging course that was well marked. The atmosphere of these races are always positive, and welcoming to all levels of runners. I think that is why I always have such a good time at these Xterra races.
BEFORE THE RACE
To save some money I had decided not to get a hotel room the night before the race. This means that my family and I had to wake up at 4am (sorry guys) to make sure we had enough time to get dressed and drive the 2 1/2 hours to Newbury Park, Ca where the race packet pickup was. The good thing about driving that early was that we didn't encounter much traffic because any sane person was still sleeping. We got to the packet pick up site about 7am. The lines were minimal so I was able to immediately get my bib and than start the mandatory before race bathroom search. Although there were a couple port-a-potties there at packet pickup, the local coffee shop
BeanoVino
was awesome enough to let my family and I use their restrooms and even give us a discount on our purchases. We than got on the bus shuttles that were taking everyone the 1 1/2 miles to the race start. We got to the race start area around 7:45 which was enough time to listen to the race course description and safety brief and then at 8:00 the air horn signaled the race start and we were off running.
RACE PLAN
My plan was really similar to the one I used for the Xterra Point Mugu Trail race 18k (
recap here
) a couple months ago. I knew that there were only a few aid stations on the course and they are placed with the volunteers who man them in mind and not necessarily with the runners in mind. Which I totally understand, volunteers don't want to carry all their supplies 6 miles up a steep mountain just because it would be the perfect spot for runners to refuel. With this in mind though your fueling strategy is important. Before the race I ate cereal when I woke up, sipped on coffee and water on the drive, and then ate a banana 1 hour before the race start. For the race I decided to carry a water bottle with me and than drink Gatorade at each aid station to replace electrolytes and calories.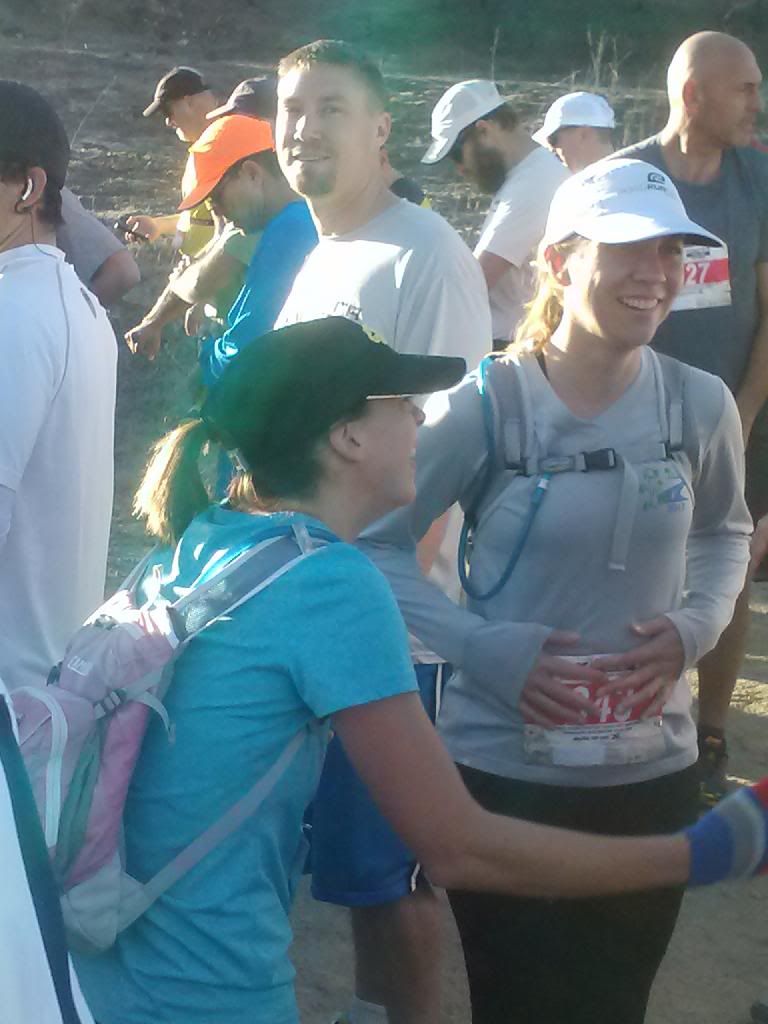 RACE
0-2.5 miles
: Mostly downhill. I was feeling good and legs were warming up nicely. First aid station was here but I didn't stop. I actually felt sorry for the volunteers because no one else was stopping either. It just was too early in the race.
2.5-4 miles
: First uphill. About 560ft of climb. Course turned to single track so pace was a little slower because of all the runners. Still taking it fairly easy and passing a few people at a time where I could. Really trying to conserve my energy. 2nd aid station was about mile 3.5 so I walked through it and drank a cup of Gatorade.
4-6 miles
: All downhill. Started get some stomach distress but not bad enough to stop running. My right knee started to feel a little sore after this downhill as well but my energy was alright. At mile 6 there was the 3rd aid station and again I walked through it and drank another cup of Gatorade. BONUS: there were restrooms here but my stomach distress was already going away so I decided to keep running. (living dangerously right?)
6-10 miles
: All uphill. About 1,550ft of climb. This was a very tough part of the course. I passed a lot of people on this section with my combination of power-walking and running. I was trying to keep my pace up as best I could. About mile 8 I started to "bonk". I realized that it most likely was a lack of caloric intake for this level of effort I was putting in. I kept pushing though.
10-12 miles
: Mostly steep downhill. My legs were exhausted so I didn't have any confidence to run fast downhill. Several runners passed me on this section. I recovered from my "bonk" and was feeling better. My right knee started to feel tender again so I was trying to keep my downhill braking to a minimum but slow enough where I would still feel in control. At mile 11.5 is the last uphill of the course. It was only a half mile and about 200ft but it felt like Mount Everest at this point. I knew at the top around mile 12 was the last aid station so I pushed myself to keep my feet moving.
12-13.2 miles
: Slight downhill. I stopped at the aid station at mile 12 long enough to drink 2 cups of Gatorade and finish the last bit of water I had and discard the water bottle I was carrying. I was able to run the last bit of the course at a decent pace and was actually able to pass a few other runners before reaching the finish line.
FINISH
Chip time: 2:35:02
Garmin time: 2:35:03
Average Pace: 11:53 min/mile
Position Overall: 195 out of 343
Age Group: 22 out of 29
SUMMARY
I am very happy with my performance. Although I realize that there are a few things I need to work on, I finished knowing that I gave it everything I had. Great 1st race of the year.
Now I recover and rest.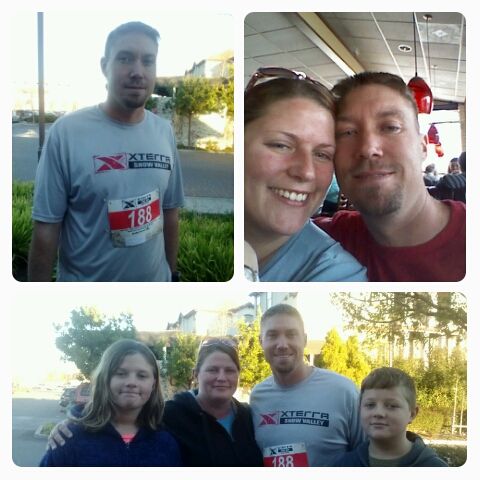 Does any one else feel sorry for race volunteers if no one is stopping at their water stop?