Last weekend I ran in the
Sheriff's 10k Trail Run
in San Bernardino, Ca. I had some big goals for this fun local event (
read them here
). I wasn't able to reach all of my goals but I still am very happy with how it turned out. Here is how the race went for me.
The race start was at 8 am which gave me and my wonderful family plenty of time to drive the hour to the race. We arrived before 7:30 and was able to pickup my race bib and use the restroom all before the Color Guard presented the colors and the singing of the national anthem. The race director then had a few announcements and described the course change. The race start and finish area had moved so the course turnaround would not be on top of the ridge but on the other side of it.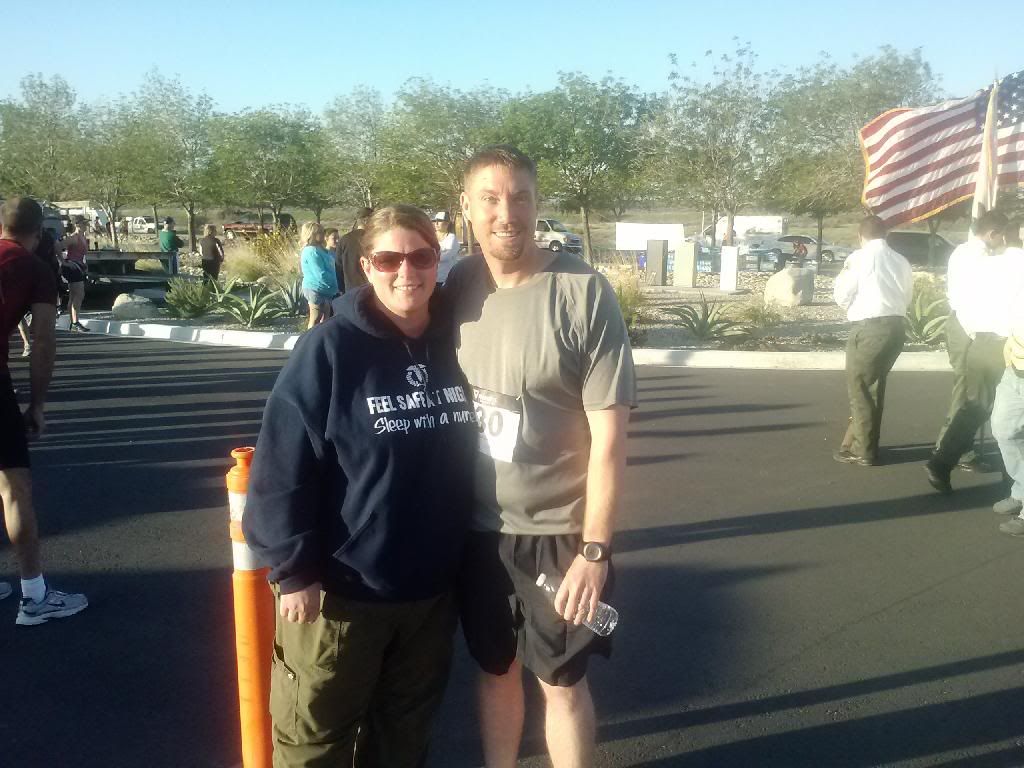 The strategy I had for this race was fairly simple. I wanted to average about a 10 min/mile pace until the turn around which would put me at about the 32 minute mark. Then I would increase my effort on the second half and then the last two miles where I know its all downhill I would use everything I had left. Hopefully finishing the second half in under 28 minutes so my time would end up being under 1 hour.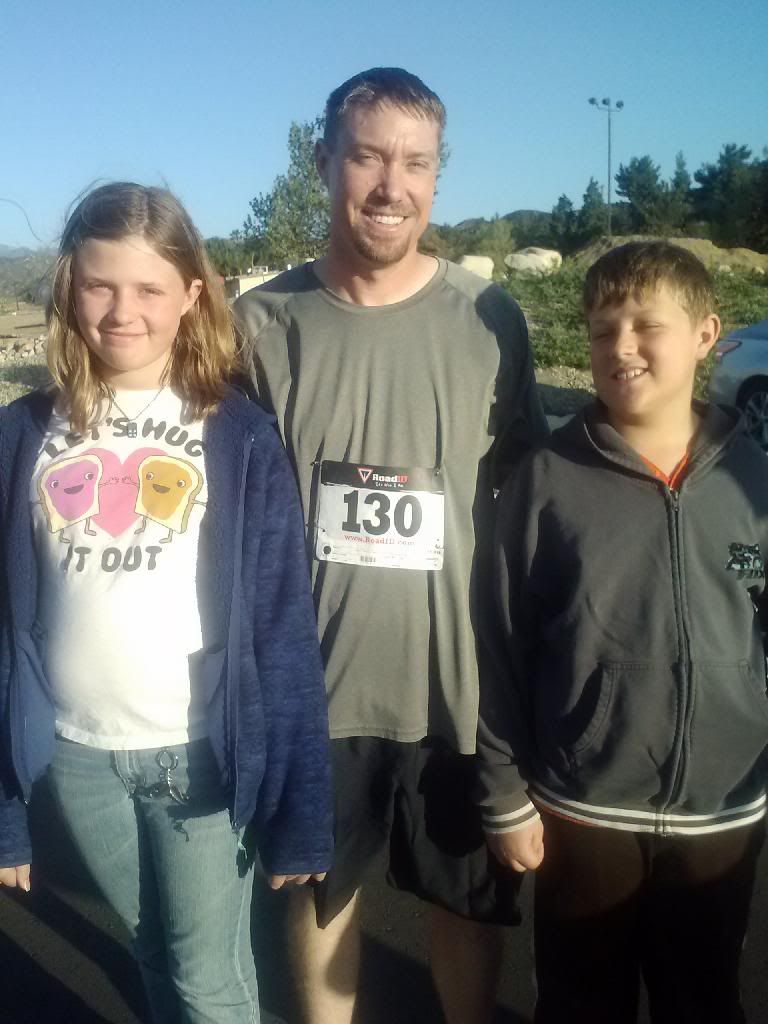 Miles 1-2
: The entire first couple miles are at an incline. I ran at a comfortable pace and had to remind myself that all the runners passing me would be hurting later in the race. I was able to run most of the inclines but I did have to power walk up some of them.
Miles 2-3.1
: The course runs along the top of the ridge and then drops down on the other side. I was able to maintain my good pace and continue running most of the inclines. This is where I was able to pass a lot of runners. Coming up to the turnaround I counted 16 runners in front of me. I reached the turnaround a couple minutes slower then I wanted at 35 minutes.
Miles 3.1-4
: After the turnaround at 3.1 we had to climb back up the ridge. Now my concentration was on trying to catch the runners in front of me. I was able to pass one runner and I was getting closer to another.
Miles 4-6.2
: This is the last two miles and it is all downhill. I picked up my pace quite a bit but I was still somehow passed by a little old man. I told him "great job" as he sped past me because I knew he had me beat. I was able to keep a fast (for me) pace of 7:50 min/mile for the last mile and sprint the last .2 mile at a 7:20 min/mile pace.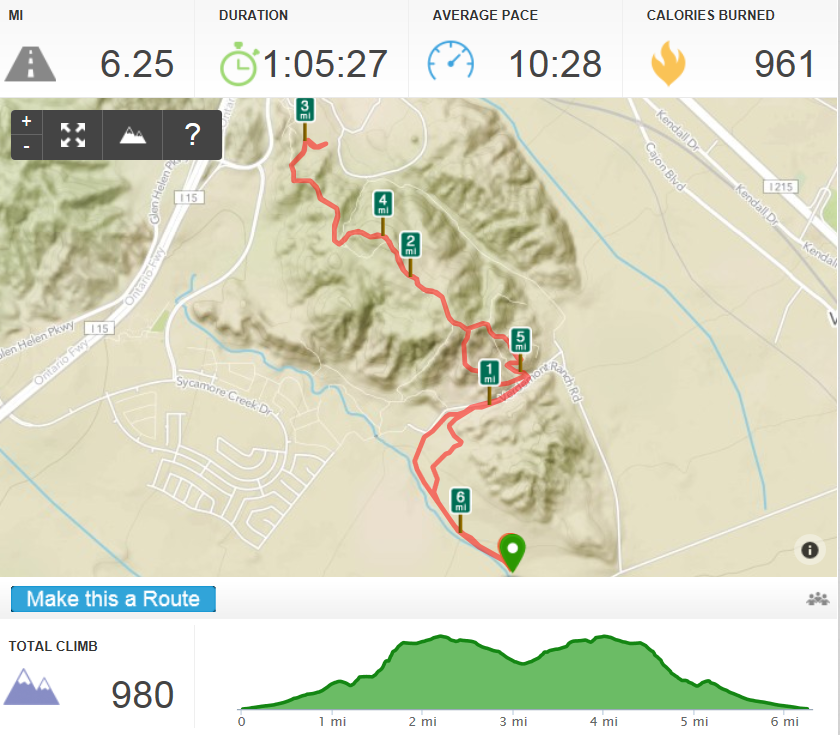 My "A" Goals
Finish under 1 hour
. I did not succeed with getting under an hour but the course was harder than last year. So I am OK with not reaching this goal.
Podium for my age group
. I was a distant 6 minutes off of third place. I am in a tough age group so I still have some
aging
work to do to be competitive.
My "B" Goals
Beat my last year time.
I did succeed in beating my time from last year even with a tougher course, so I am very happy with this victory.
Beat my Brother.
I did beat him. I don't think he brought his A game though so I don't feel this was a full victory.
Summary
Overall I was very happy with my time and how well the race went for me. First half of the race was 35 minutes and second half was 30 minutes. Which means I had a negative split of 5 minutes. Woo-hoo!
I liked the course change, somehow the race director was able to make a hard course even more tougher. The Color Guard and national anthem was a great touch for a small event. The volunteers were great and there were several aid stations along the course.
My Unofficial "C" Goal
Be more photogenic. Big fail.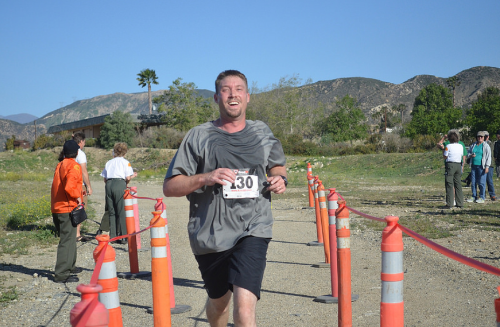 At least I was smiling but I think I need a new shirt. Source
Any tips on being more photogenic? I obviously need some help
.