As always, I am very excited for races. That is probably why I plan and sign up for so many. It really keeps me motivated to keep training hard. This Sunday is the
Xterra Black Mountain Trail Run 16K
(10 mile) race in San Diego. This will be my first time running this race. The last couple of years I have ran in the
Xterra Lake Las Vegas Trail run
that is usually on the same weekend. But because the race in Las Vegas switched the trail run to a Saturday and the triathlon to the Sunday I would not be able to make it. There will be plenty of other reasons to go to Las Vegas another time. The Black Mountain race was not my first choice, but I have no doubts that a weekend in San Diego will be equally as awesome.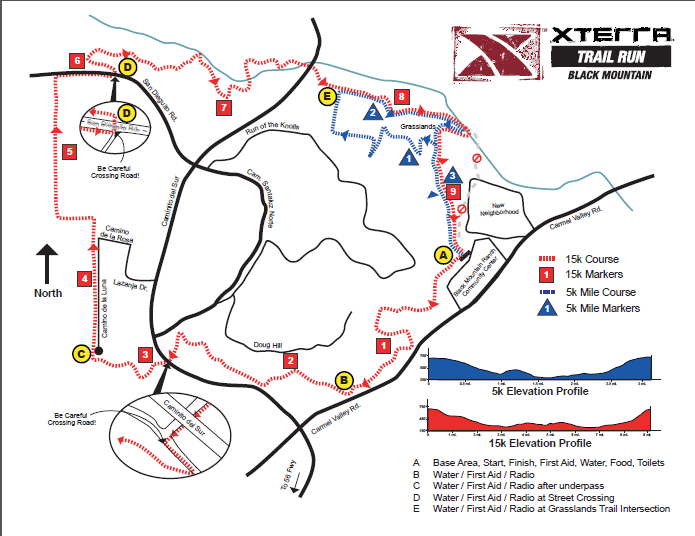 This race is described as the fastest Xterra race in the SoCal series. This is mostly because it doesn't have the crazy amount of incline as the others but it still is going to be very hard. Especially the last 3 miles, where it is a very long grueling climb up to the finish. With that in mind I have trained for both speed and running uphill on exhausted legs. So hopefully I have done enough to prepare for this race.
My "A" Goals
Finish with a 9:30 min/mile pace or better.
Finish in top third of my Age Group.
My "B" Goals
Finish with a 10:30 min/mile pace or better.
Finish in top half of my Age Group.
The reason I am using pace as a goal is because I don't know the exact course distance. Some parts of the website show it as 15k course and other parts 16k. So instead of being bummed out that I didn't make a certain time, I figured I will go by pace. I also have a couple of unofficial goals that I will share after the race in my recap.
What is the farthest you have traveled to participate in a race?
This will be my farthest to date at 2.5 hrs/160 miles away.