On May 4th I ran my first road half marathon at the
OC Marathon
. I had a couple of goals for this race but I was mostly going for the experience. This was the largest (13,000 runners) race and my first point to point race. This was also the first race that there was no race day packet/bib pickup. So, my family and I learned a lot about these kind of races over the weekend.
When I originally signed up for the race I only had a couple of criterion. One of those were that it had to be on a Sunday because Saturdays are usually too busy. What I didn't realize and needed to take into account is that a big race will not have race day bib pickup. This means that Saturday ended up being much more busy than I would have liked for the day before a race.
Saturday morning the kids and I drove 2 hours down to the Race Expo in Costa Mesa. I had never been to a race expo before and it was an interesting experience. It was easy to find the lines I needed to pickup my bib, and my race t-shirt. After that we decided to check out the vendors since it was still early in the day and the crowd wasn't that bad yet. The kids and I walked around and ate whatever free samples the vendors were handing out.
EB
let me know that
Island Boost
would be there so I made sure I stopped by and got myself a couple of the chocolate flavored packets. After we had our fill of samples and had grown bored of looking at the multitude of sock and shirt vendors we decided to head home.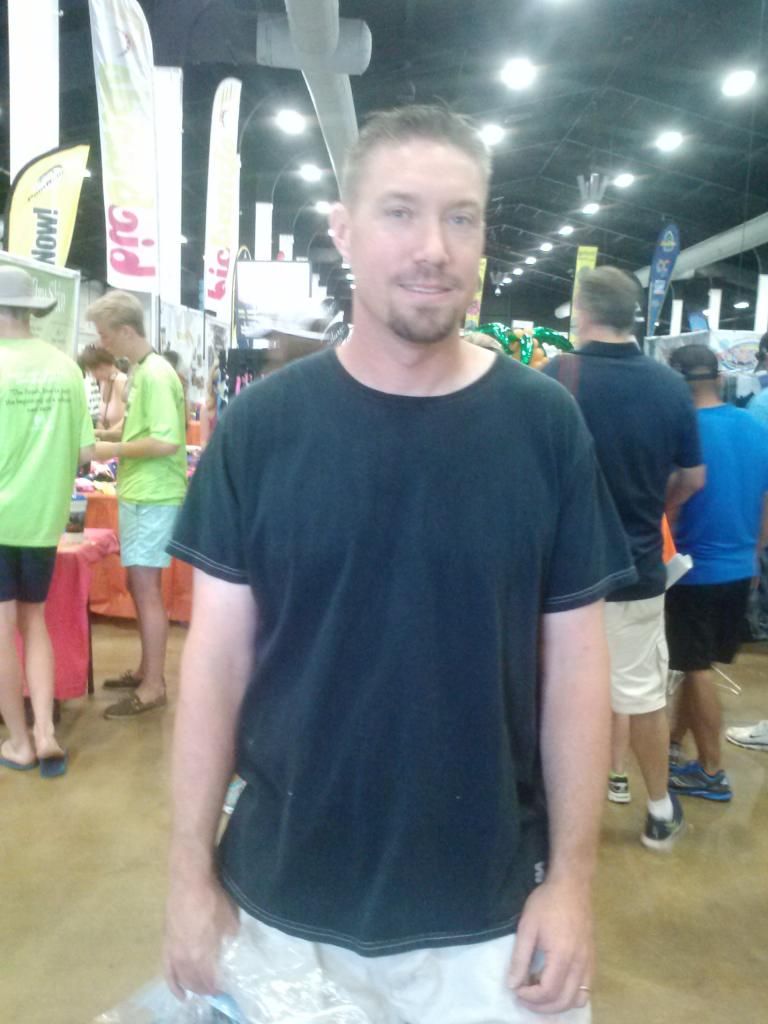 Hanging out at the Expo
We drove home and got my Son ready for his Little League Baseball game. He did awesome and it is really fun watching him play. After the game we went back home and finished packing and than waited for Mrs. Speedypants to get off of work. We ended up getting on the road about 7pm and checked into the Hotel a little after 9. With the super early race start we set our alarms and called it a night.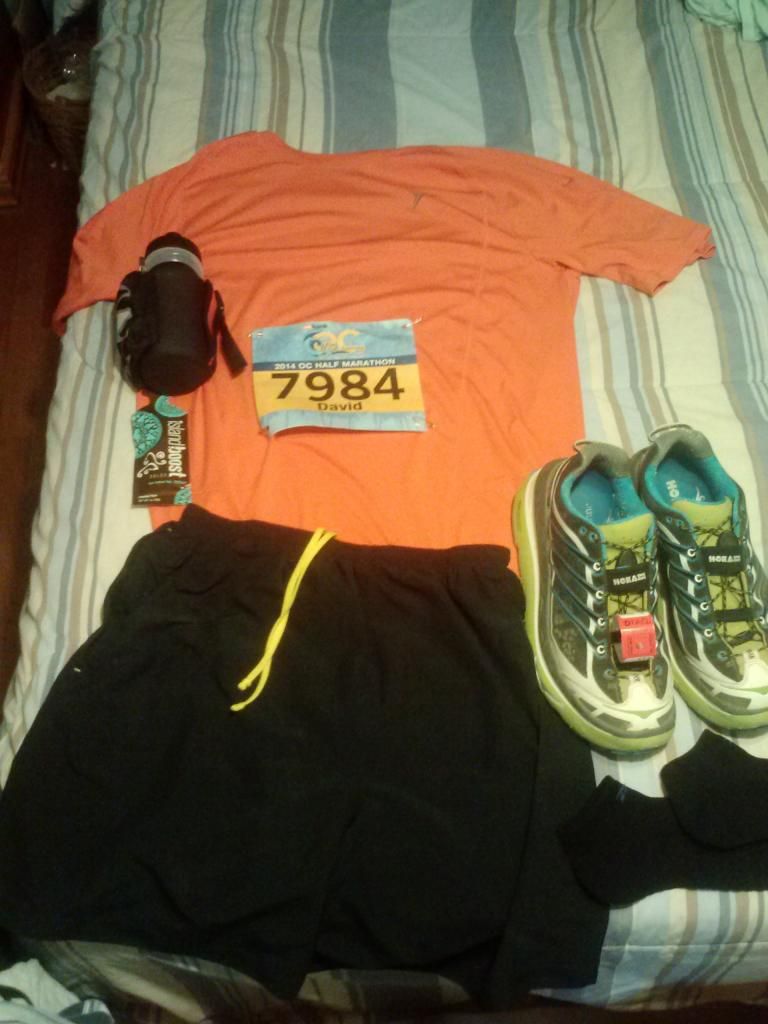 My cute outfit race gear
The half marathon start was at 6:15 am and so we left the hotel at 5:30 am to drive the few miles to the start. The hotel breakfast wasn't ready yet so we had to stop by at a nearby 24hr Subway to get some sandwiches. With the morning race traffic and lack of breakfast planning we were late. it was 6:00 am and we were still stuck at stoplights and so once again I had to be dropped off and my family was going to miss the start of another race. We turned around and Mrs. Speedypants dropped me off at the shuttle drop off at 6:10. I jogged over to the start area and there were lines for the port-a-potties and so I figured I would just skip them and just go find my start corral. I was assigned to Corral 3 and I was able to find it as soon as the race started and the first wave of runners were released. The start of my corral was ten minutes later and I was off and running. About a quarter of a mile in I came to the conclusion that there was no way I was going to be able to make the entire 13 miles without a potty break. Luckily for me I found some port-a-potties at the first mile marker. Stopping mid-race was another first for me. I lost 2 minutes at this detour but it made for a much more pleasant race. The rest of the race went really well. I brought my handheld water bottle and an Island boost with me so I was able to skip most of the aid stations until I ran out of water the last couple of miles. I took my Island Boost about the 50 minute mark and I was able to finish fairly strong. I was passing people the entire 13.1 miles.
Official Time: 1:58:46
Overall Place: 1872 out of 10389
Age Group Place: 216 out of 650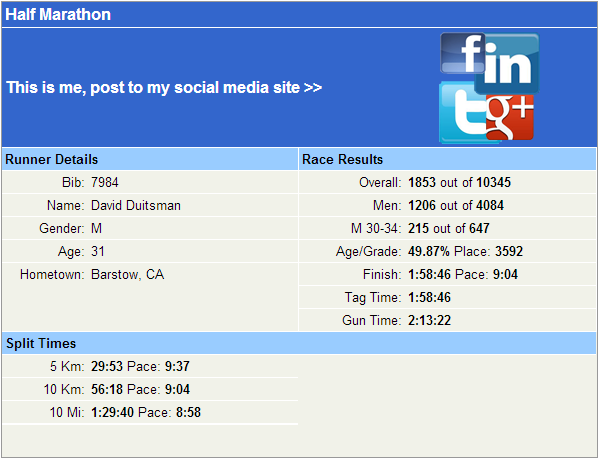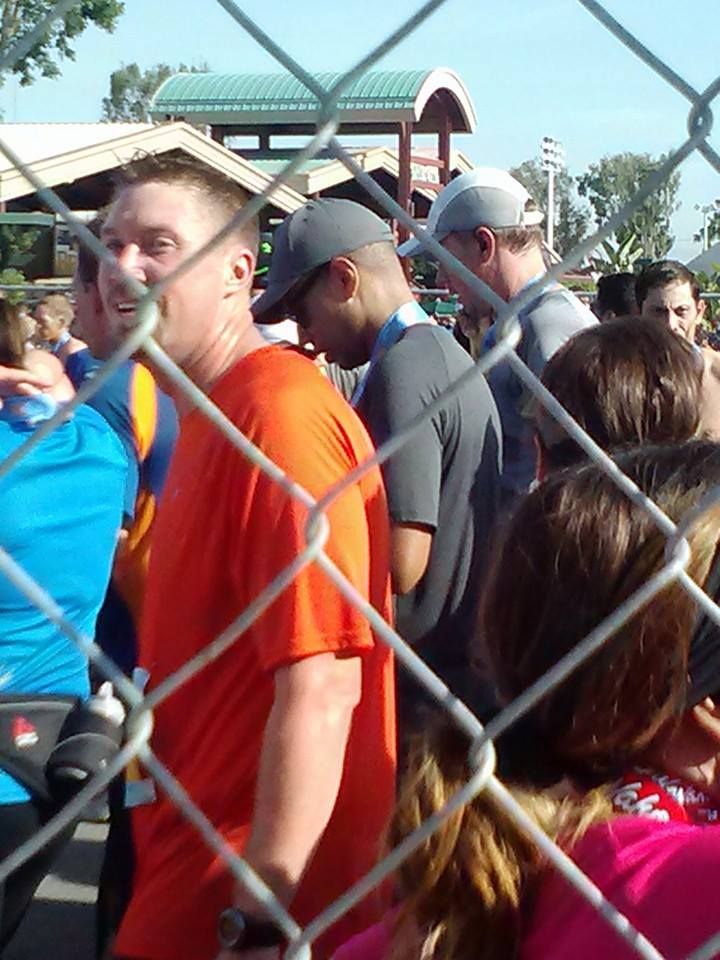 Happy that I finished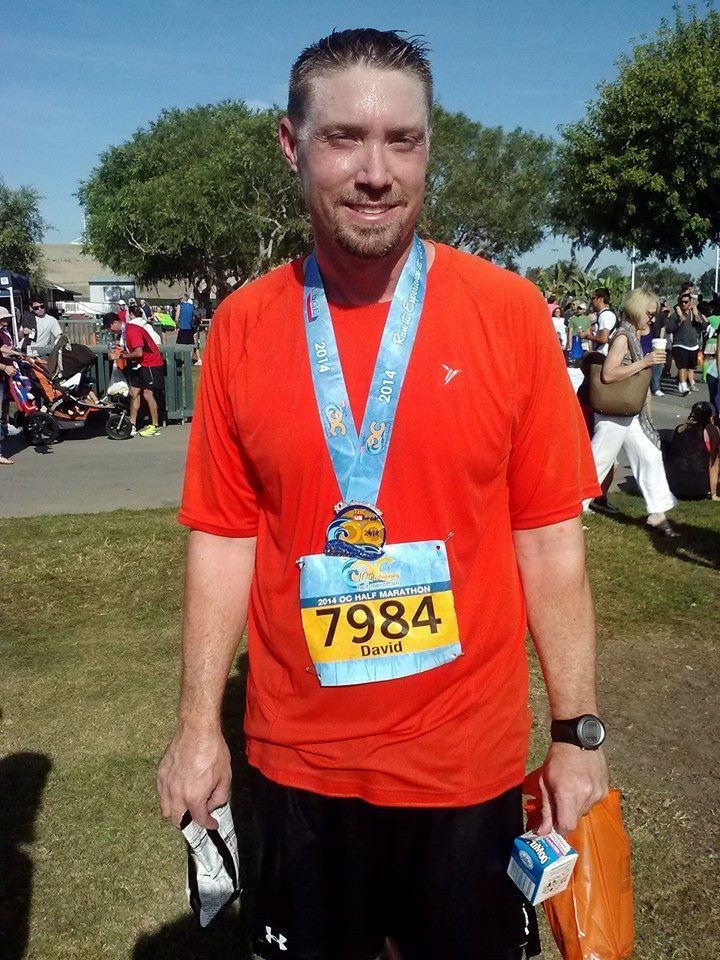 Sun and sweat in my eyes.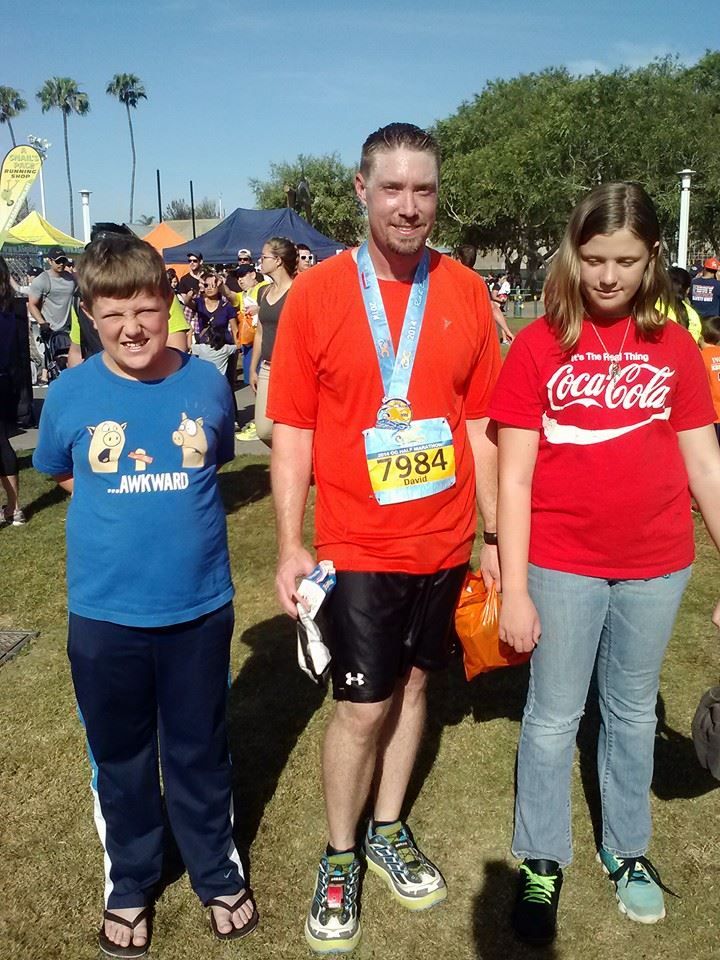 Notice how my kids did not want to touch me.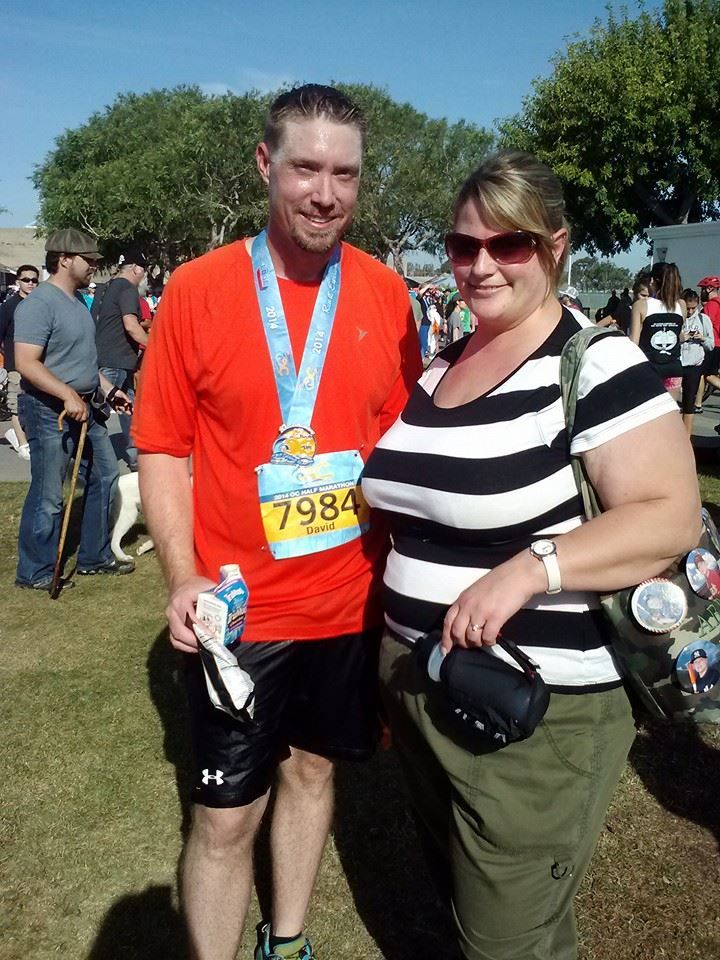 I was completely soaked and dripping sweat as evidenced by my shorts here.
The course was actually fairly nice and the scenery changed enough to keep me amused. There wasn't a lot of spectators but they were enthusiastic with fun signs, unofficial aid stations, music and cowbells. The course had several turns and hills which made it tougher than I was expecting. Even with the early start time it got hot quick on the course which made it even that much more harder.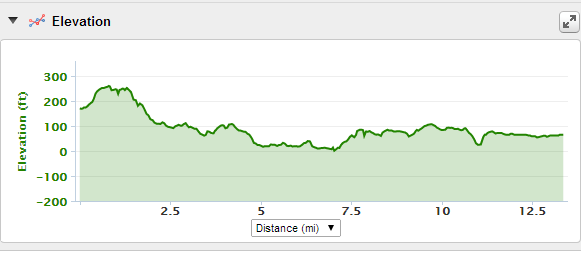 I reached my goal of finishing in under 2 hours. Woo-hoo!
There were a lot of firsts for me and my family with this race. I am glad that I signed up and did it because we were able to learn what we liked and disliked about these kind of races. I will use that information when I choose my first full marathon at the end of this year. I really enjoyed the course, and the atmosphere of the race. It was a fun experience. My hydration and fuel plan worked for me. I don't know what time I put for my expected finish time when I signed up because I definitely felt like I was in the wrong corral. I know I used a lot of energy speeding up, slowing down, and darting side to side trying to pass people the entire race.
Largest race
First road half marathon
First time using Island Boost at a race.
First point to point race
First race expo
First time I needed a potty break in a race