Yes, you read the title right. Don't worry it was for a personal best. The tummy rumbles started about mile 3 of my 6.2 mile run. I immediately started making a mental map of where the bathrooms were on this route. Not much is open at 5am though besides a few gas stations and the hospital's emergency room. I was running really well and had a feeling that I was on track for a personal best and I did not want to stop. So I continued on and each time I passed a possible bathroom the tummy would rumble more. So I would increase my pace, which would make my possible personal best better and less willing to stop for a bathroom. I was stuck in this painful, sweaty catch-22 that I created for myself and I wasn't willing to give in. I reached the end of my 6.2 mile run with a personal best time but I did not have any time to celebrate.
So was it worth it? I think it was this time because I finished with clean shorts and an awesome time. If it ended any other way than I probably would have a different answer.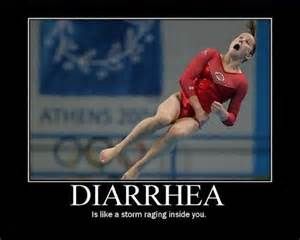 Any one want to share their "close call"?