Happy Friday the 13th to everyone. Last Sunday on the 8th I ran the 15 mile
Holcomb Valley Trail race
. There was a 7 mile and a 33 mile option for racers but I felt the 15 would be perfect for where I am in my training and abilities. It turns out I was right. I had a great time and I had a great race.
Before the Race
I live an hour away from where the race was being held in Big Bear City, CA. I had the opportunity to actually run the course a couple times in the weeks leading up to the race. I had never previewed a course before and I do believe that it gave me an advantage. Something that I noticed though was that previewing the course did take some of the fun out of the course because I had already seen everything.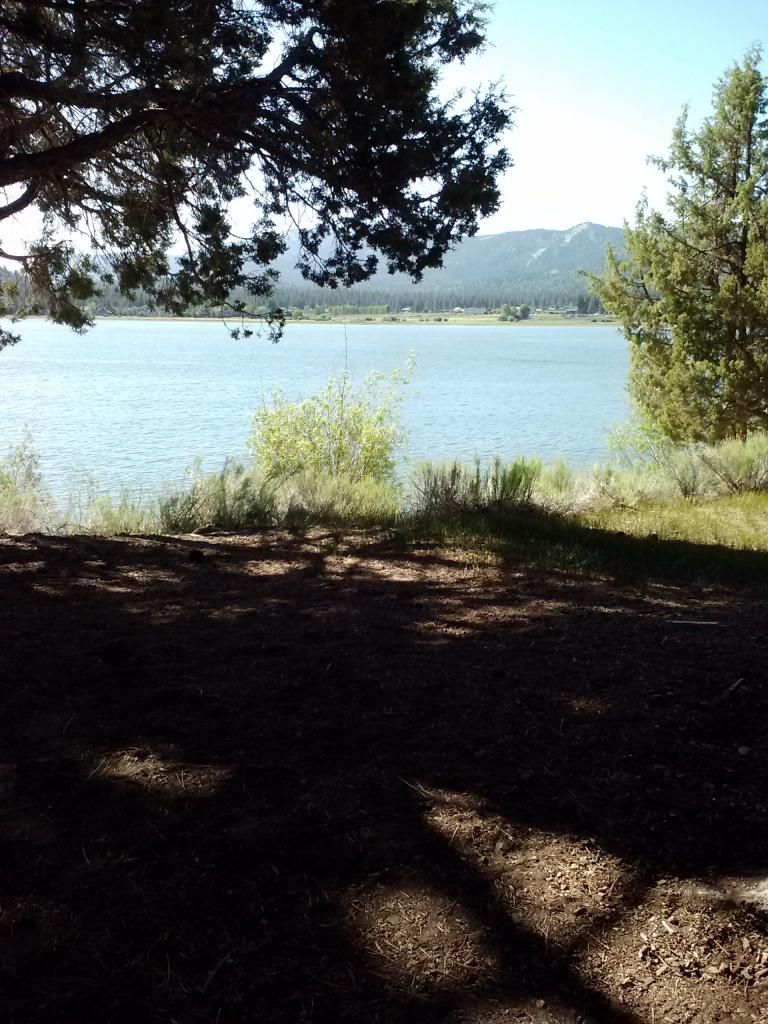 Big Bear Lake
Race Day
The start of the race was going to be at 7:45 am and because I live fairly close we decided to just wake up a little early and drive to the race in the morning. I was a little worried about this plan because of the last two races I have ended up late for the race starts. Being late for this race would be a bigger problem because it is not chip timed. So my time would be going whether or not I was actually at the start. Needless to say this added a little extra stress but we ended up getting to the race area in plenty of time. I picked up my bib, visited the port-a-potty, and had a little time to do some nervous stretching and to waste time. I had decided to only bring one handheld water bottle with me, one
Island Boost
packet, and one package of
Clif Bloks
.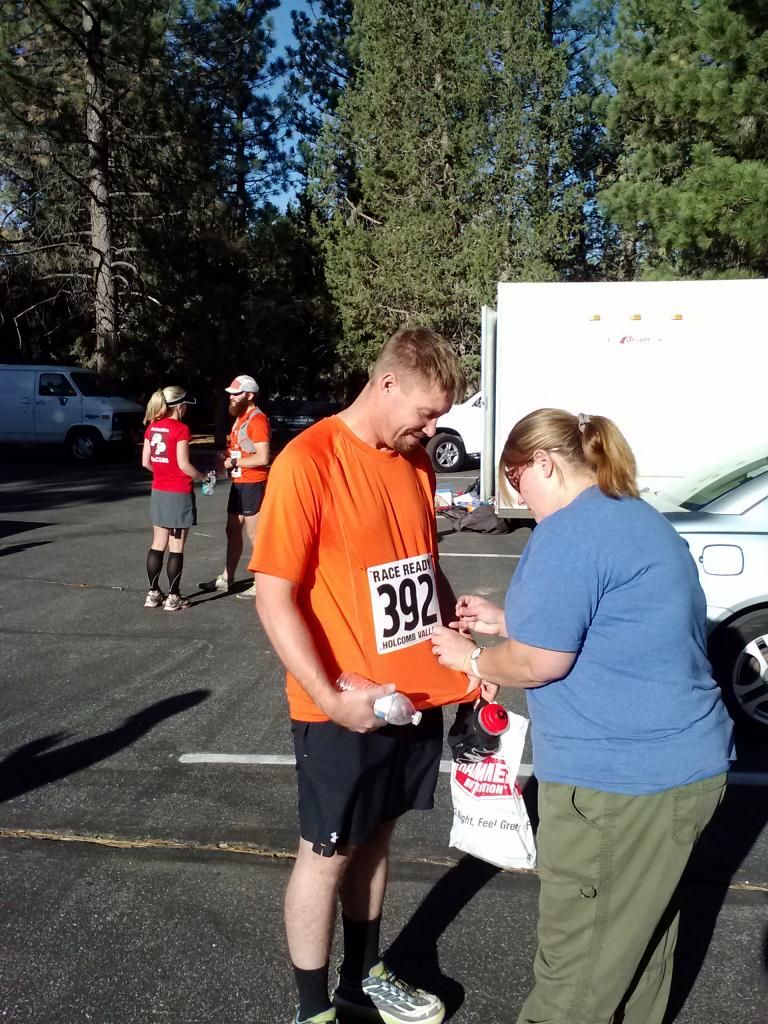 Getting some safety pin sticks much needed help with the bib.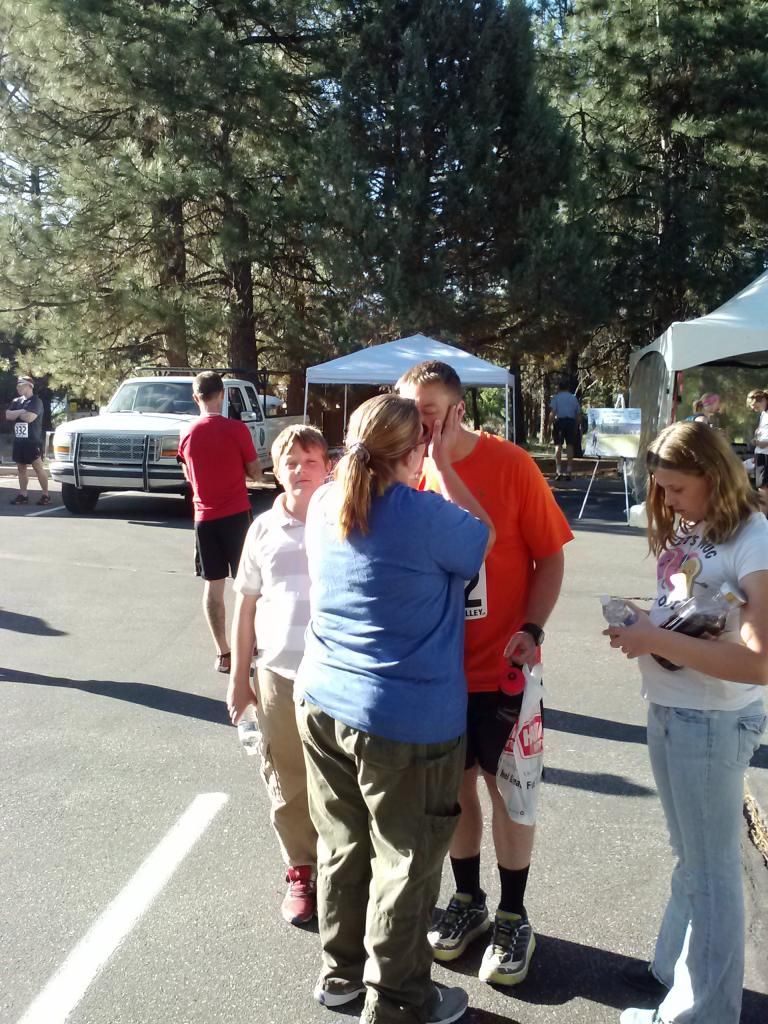 Good luck smooches and hugs from everyone.
The race director gave a little safety brief and the race started right on time at 7:45 am. I started in the middle of the pack because I knew the first three miles were going to be rough.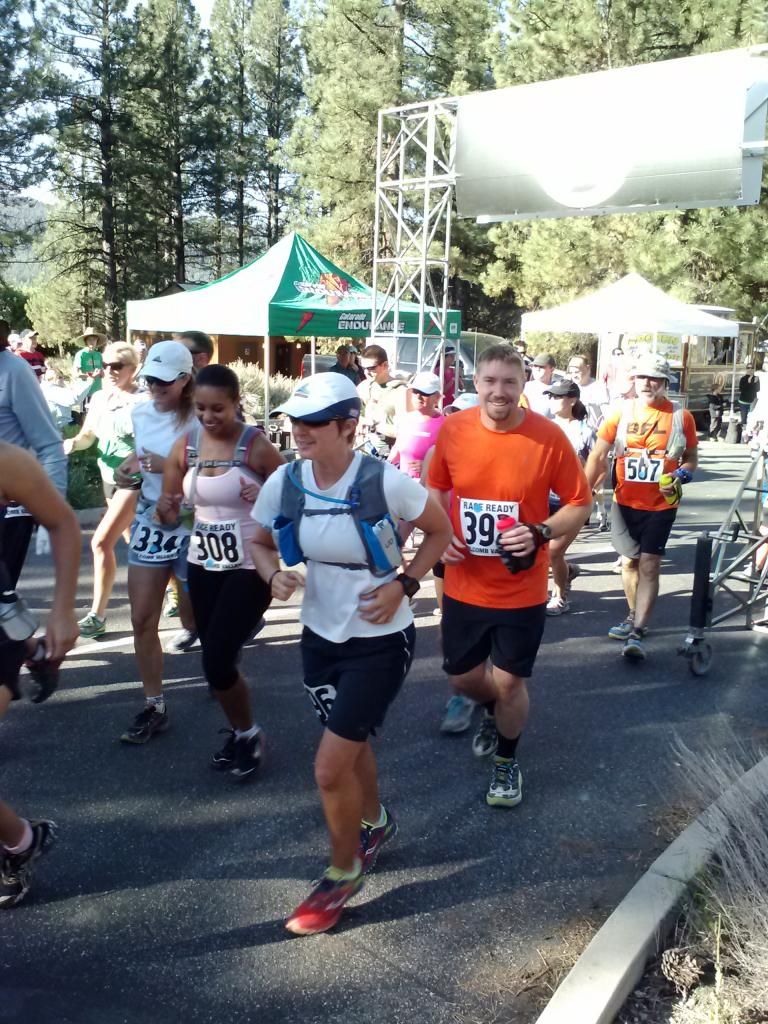 I only looked this nice and refreshed for a half mile. Than I was gasping for air.
Miles 1-3
: Average mile pace 12:39. The race starts near the lake so the first three miles you run up the mountain. I decided to take it easy for this part just because it is early in the race, I need time to warm up my legs, and I need time to get used to the thin mountain air.
Miles 3-7
: Average mile pace 9:38. After reaching the top of the mountain the course drops down on the other side and goes through a meadow. First aid station was at mile 4 so I topped off my water bottle and tried to take advantage of this part of the course. I ended walking for a minute and eating my island boost at mile 6. Although I took it easy coming up the mountain, my legs just could not speed up and felt heavy.
Miles 7-9
: Average mile pace 12:53. This part of the course goes back up the mountain. My legs continued to really feel heavy and I was doing more walking than I wanted to on this part. I would do about a minute of slow running and than a minute of power hiking. I ended up eating all my Clif Bloks during these miles while walking. The 2nd aid station was at mile 8 and again I only topped off my water bottle.
Miles 9-12
: Average mile pace 10:54. These miles run along the PCT trail on the ridge. It had several rolling ups and downs and I really did not have an uphill gear left in my legs. I just tried to keep running and to not stop to walk. I was able to keep running until the last aid station at mile 11. I took my time getting water and walked a bit. My knee had started to feel sore from all the uphills and the PCT trail is slightly cantered to one side.
Miles 12-Finish
: Average mile pace 9:56. All running down the mountain back to Big Bear Lake. There are several technical and rocky sections so I could not fly down the mountain as I had wanted. My legs were exhausted, and my knee was feeling sore so I decided to be conservative coming down the hill.
Official Time: 2:37:51
Overall Place: 22 out of 85
Age Group Place: 10 out of 13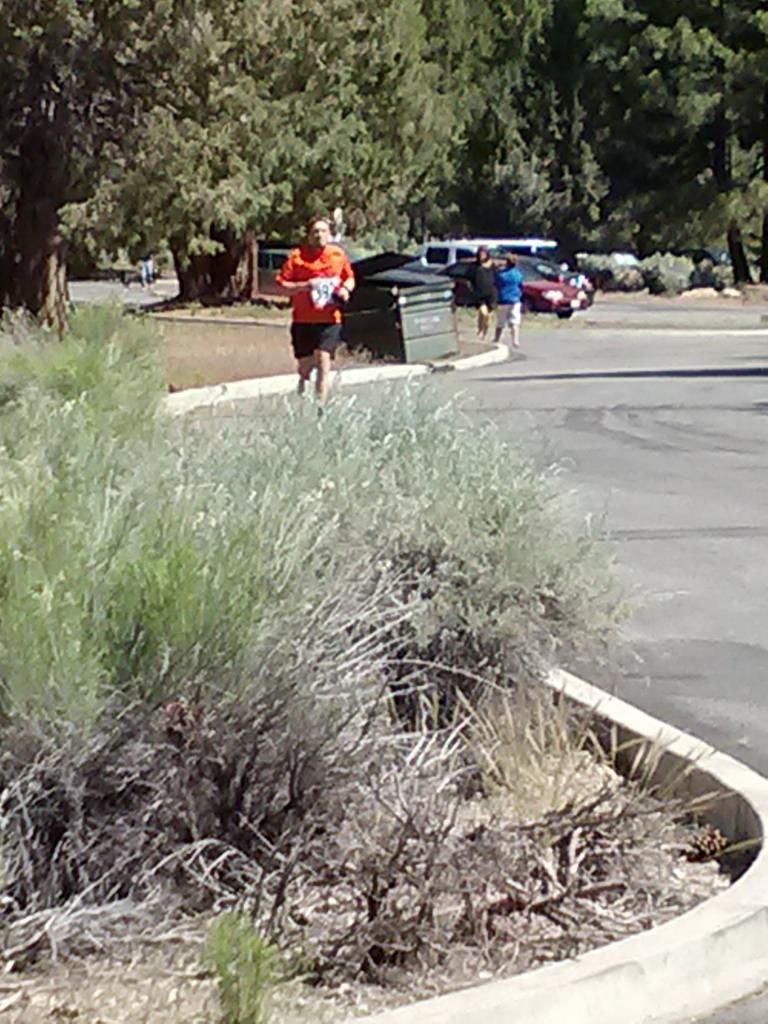 I didn't run the race. I just stayed in that trash can for a couple hours.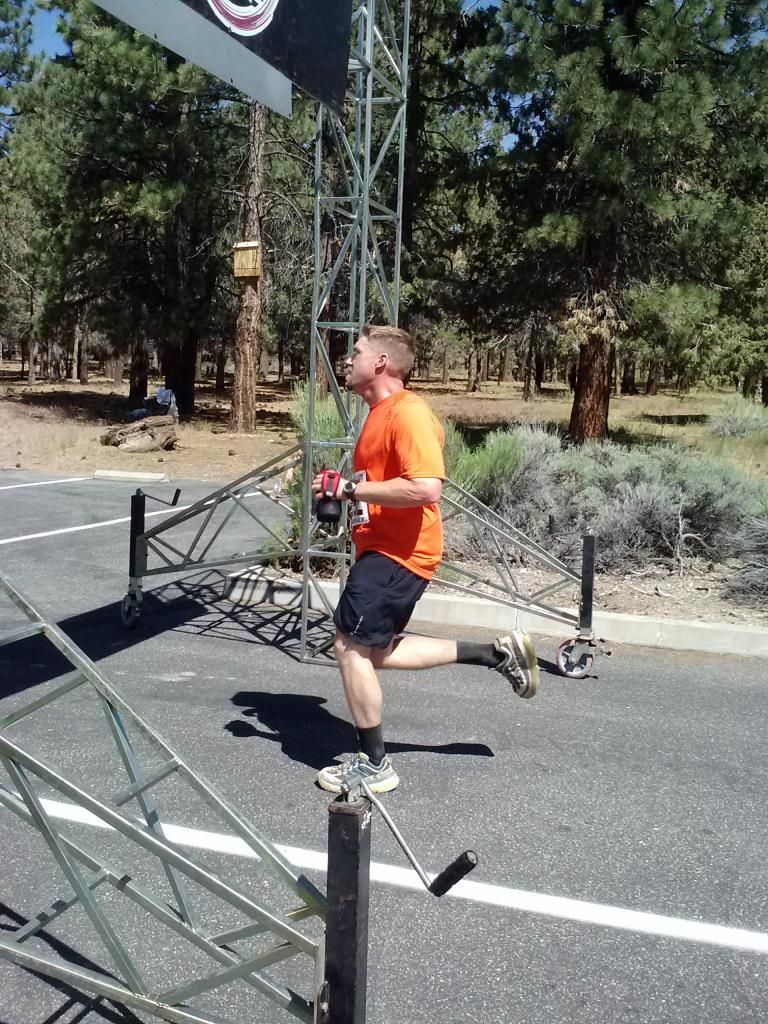 Finished strong.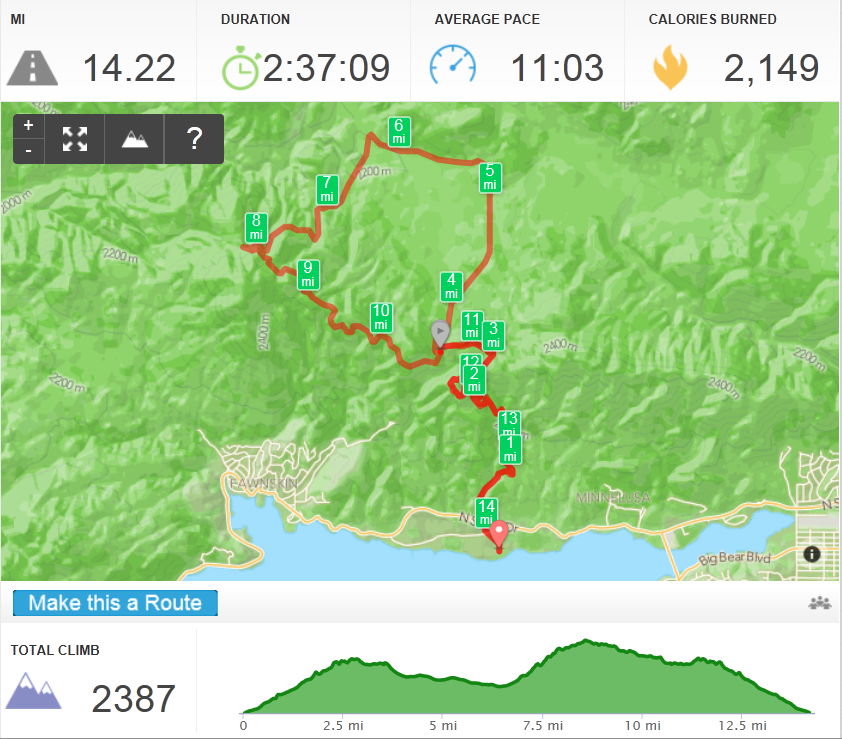 .
Summary
I really enjoyed this race. The course was awesome. There were only a few aid stations but they were well stocked with water, and food. One sponsor of the race is
Hammer Nutrition
and so they had HEED Sports Drink instead of Gatorade at the aid stations. I haven't tried HEED so I just stuck to the water. The volunteers were friendly and were great. Race participants were treated with post race smoothies and chili. Our swag bags had some Hammer Nutrition samples, race T-shirt, logo water bottle, pin, and a race finisher sticker.
I stuck to my race plan fairly well. My age group was very tough, 6 of them finished in the top 10. I was very pleasantly surprised with my top 25% overall placing. I beat my goal of finishing before 2:45 but did not reach my "dream" goal of before 2:30. I am happy with my race. I really struggled on a couple portions but was able to continually pass runners, so I must of been doing better than I felt.