Last Sunday I ran in the
Xterra Snow Valley 21K trail run
. I had been looking forward to this race for quite a long time. Last year I was a DNS (did not start) because of a crazy horrible illness and I was in need of some redemption. The course is ran in the Rim Nordic ski area right across the street from the Snow Valley Ski Resort and is an amazing course that is both challenging and beautiful.
The weekend prior to the race, my Brother and I decided we should go and preview the course. I am glad that we did because the course is harder than what we remembered. The course is a 1K loop then followed by 2 laps of a 10K loop. All this at an elevation above 6,700 ft.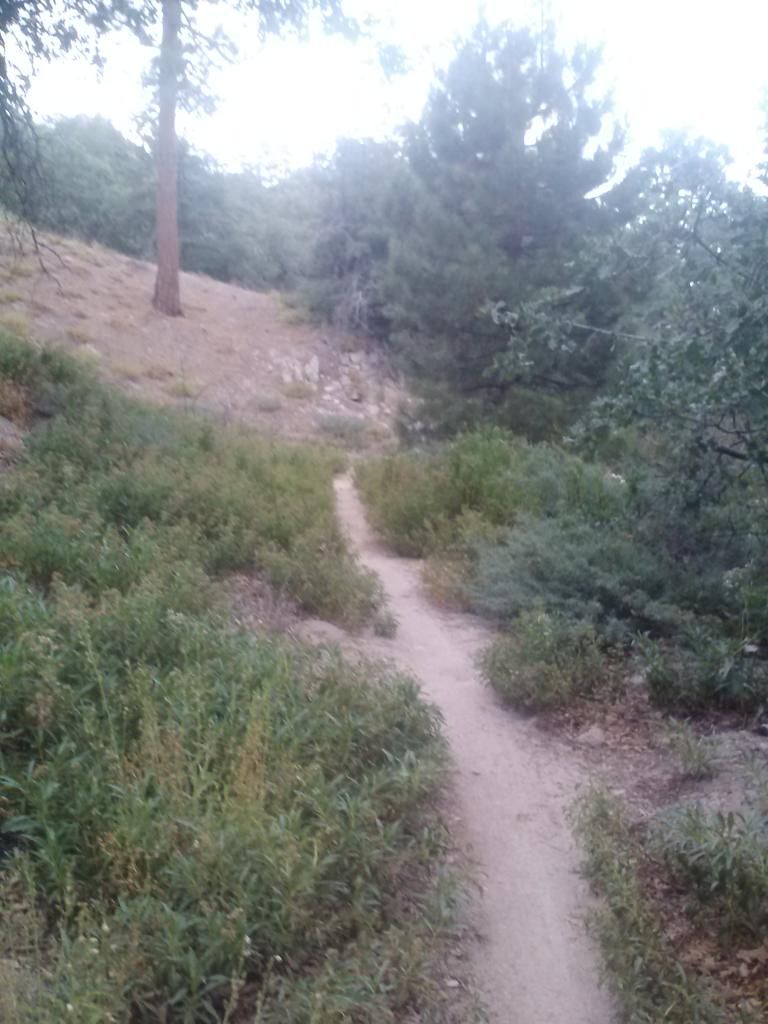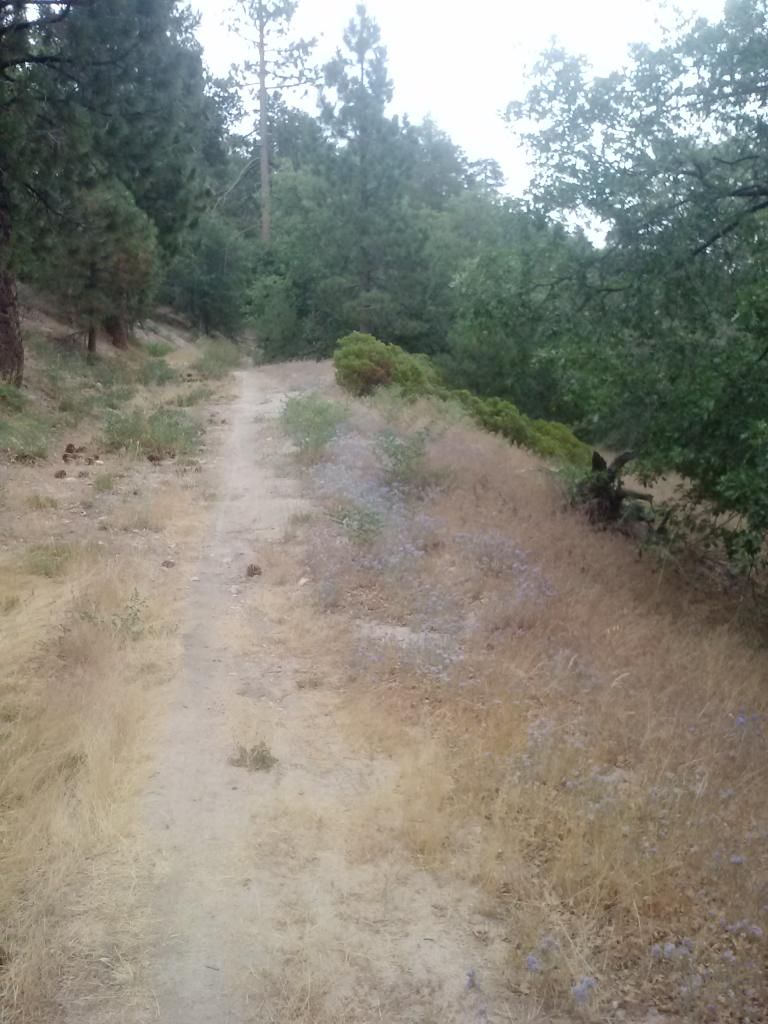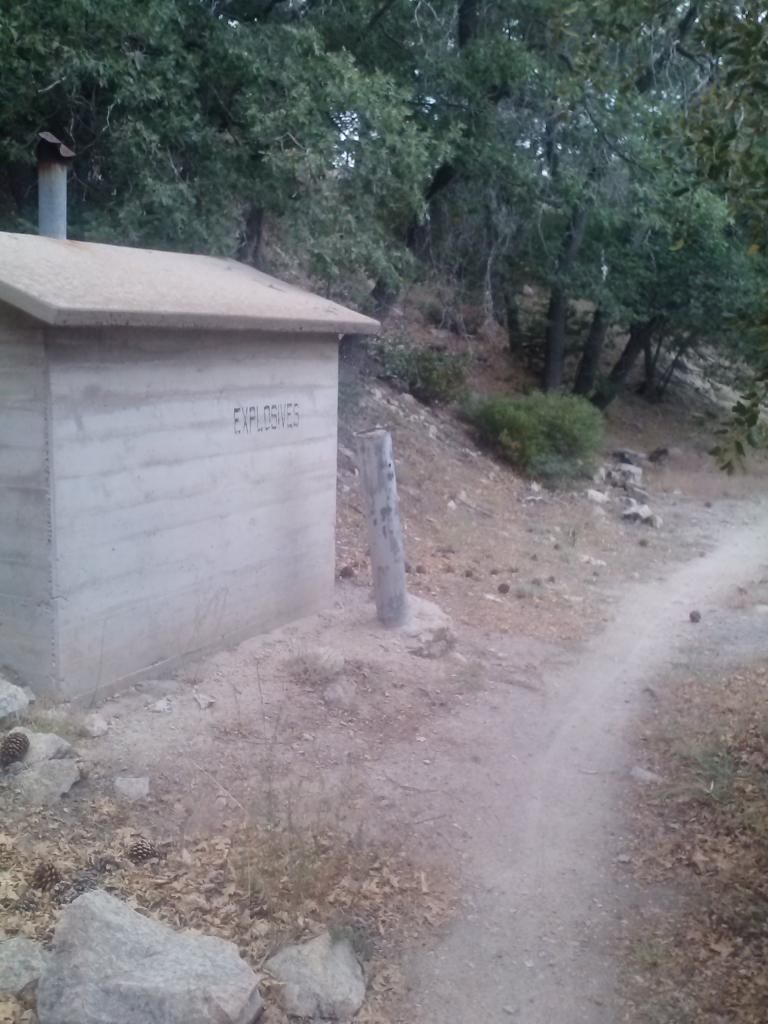 The race is only a 1.5 hour drive away, so after I finished eating a light breakfast, my family and I drove up on the morning of the race. We arrived and I was able to pickup my bib and my runner swag bag really quick. There were no lines at registration or at the bathrooms, I love this race because of how easy and quick everything is. After looking around like a lost puppy, I found my Brother and found out that he was dropping down to the 10K race.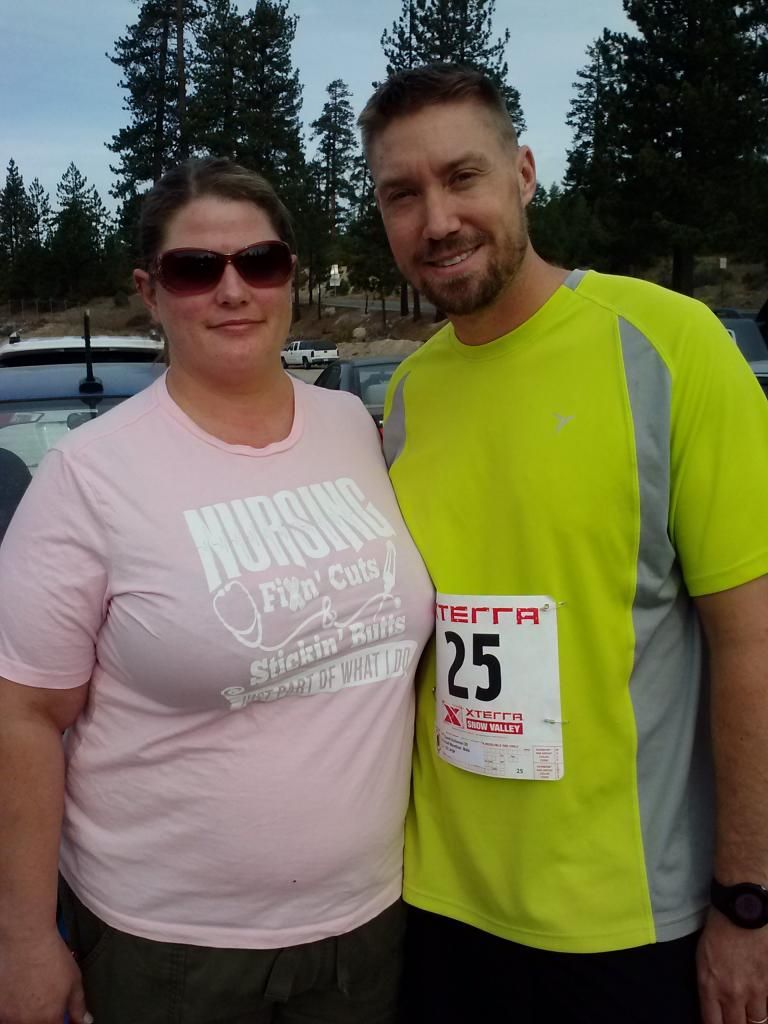 Thank you Mrs. Speedypants for coming and cheering me on.
Although it was already fairly warm and looking like it was going to really heat up for the day, I decided that I would be alright with just bringing my handheld water bottle. After a little bit of stretching and preparing I joined the other 21K runners near the starting area to listen to the final instructions from the race director. Then at 8:15am we were off and running.
Nervously standing around waiting for the start of the race.
1K loop - 3:51
This loop is fairly flat and is perfect to start warming up your legs before running up the mountain. I took it easy and just stayed in the middle of the pack.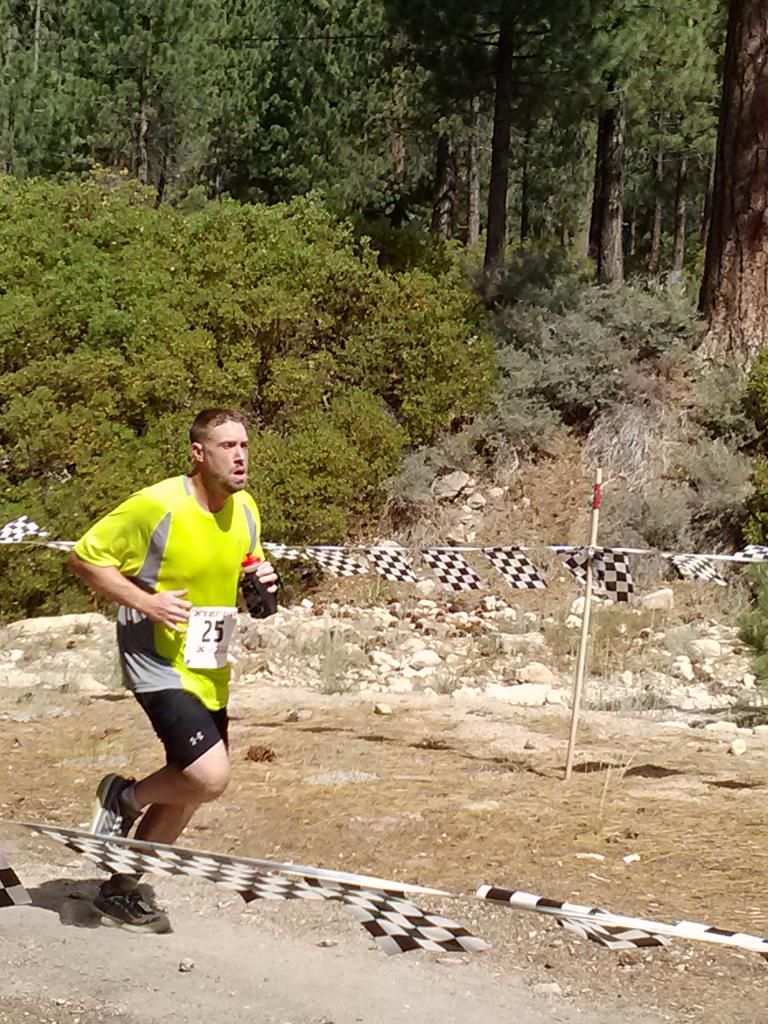 This must be my "serious" racer face
1st 10K loop - 1:03:39
The first 2 miles is the steepest and I really tried to hold back my pace on this part. Even though I felt like I was going slow I was still passing a few runners, so I forced myself to fast hike certain steep parts to help slow myself down and conserve my energy. The next mile and a half is an easier incline but it still feels tough because your legs are still burning from the previous miles and your lungs are still trying to get used to the altitude. I stuck to a couple runners and the three of us pushed the pace for the rest of the lap, especially on the downhill. I don't think I would have ran so fast down the hill if it weren't for them. As I was in the running zone and watching the ground, the Snow Valley Devil came out from behind a bush and freaked me out. I am surprised that I don't see a huge spike in my heart rate reading.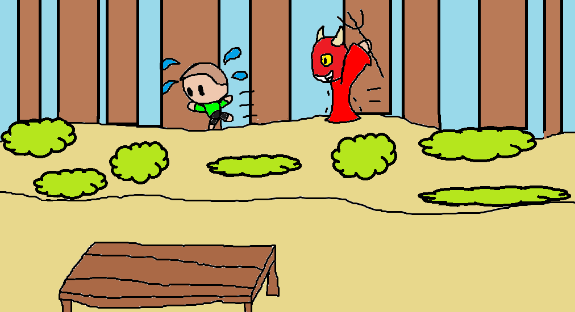 Thanks to my Daughter for this pic.
2nd 10K loop - 1:11:36
As I finished the first lap I could hear my wife cheering for me. I really needed that because I was already dreading having to climb back up the mountain. This time going up the mountain I was in complete contrast of the first time up. I was going slow and had to force myself to actually run rather than hike. The other two runners I had been running with were hurting just as much so I decided to break away from them. This really helped me mentally because I really did not want them to catch back up to me. I continued running alone and pushing myself to keep moving. I caught up to a few 10K runners and then to my surprise one of them called out my name. It was my twitter friend Christine
@OatmealBowl
. We exchanged a few quick pleasantries as I ran by. I kept running hard and as I came to the last half mile I started to hear a runner behind me. I instinctively knew that it was one of the 2 runners I was with earlier. Even though my legs were burning and I was exhausted I summoned all the energy, and strength I had to make a last push for the last half mile. I didn't look back, but I could hear that he was getting closer. I finally came around the final turn and could see the finish. I finished less than 2 seconds ahead of him. I shook his hand and I was glad that the race was over.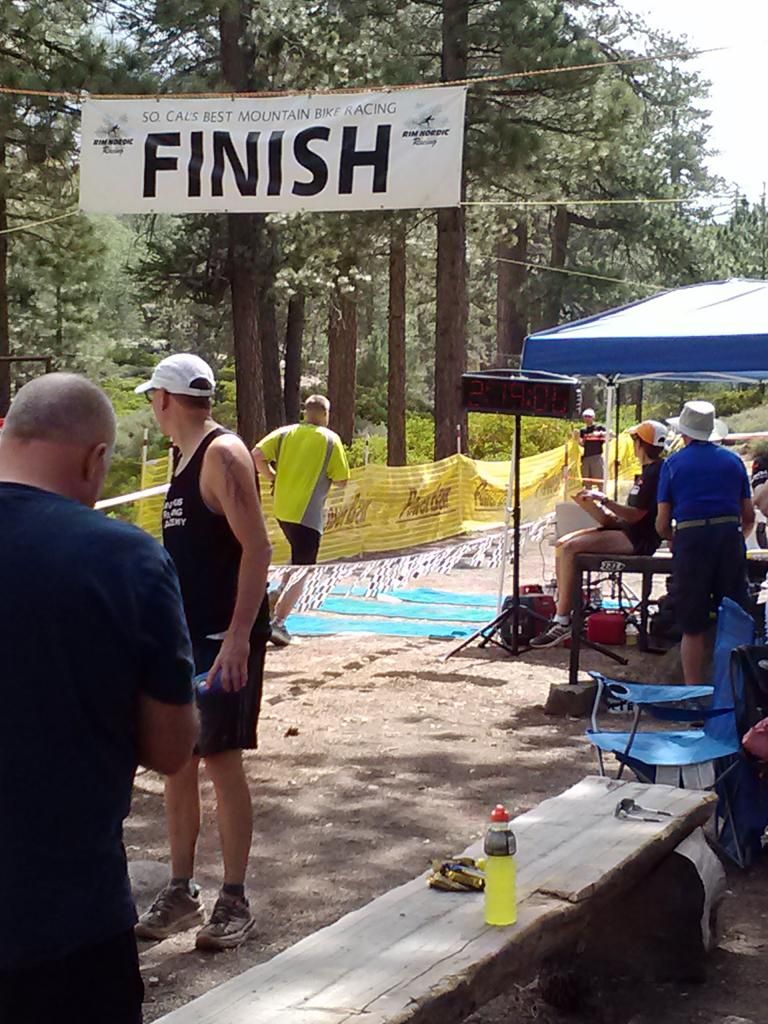 Official Time: 2:19:07
Overall Place: 18 out of 64
Age Group Place: 2 out of 5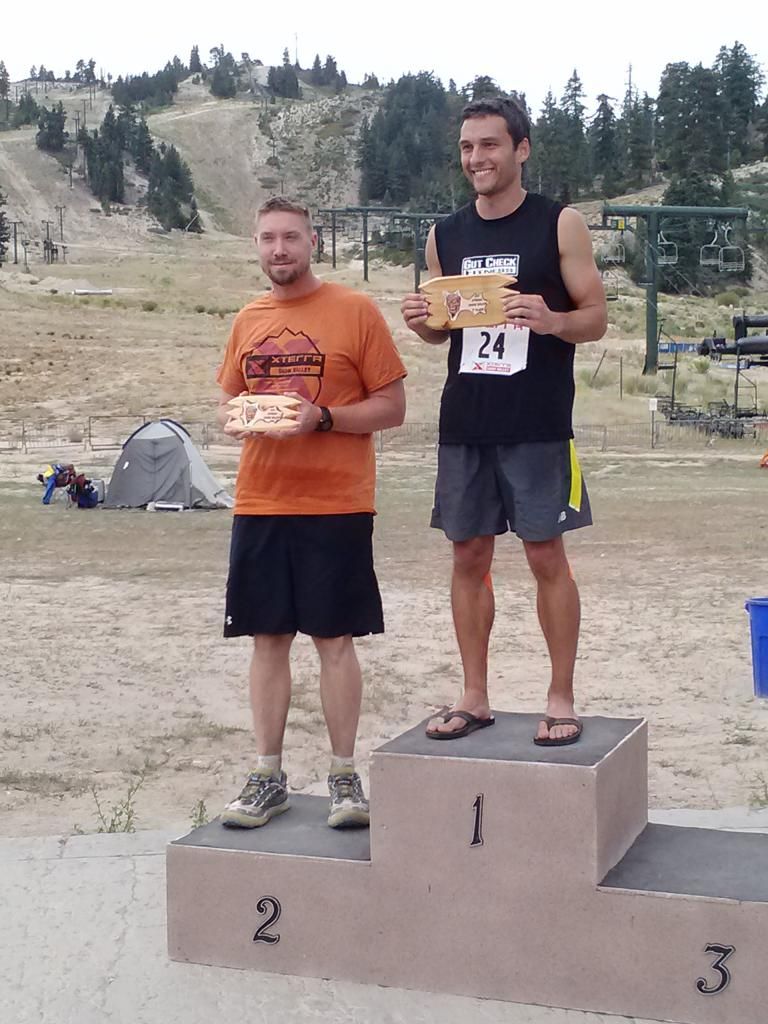 Woo-hoo! 2nd in my age group.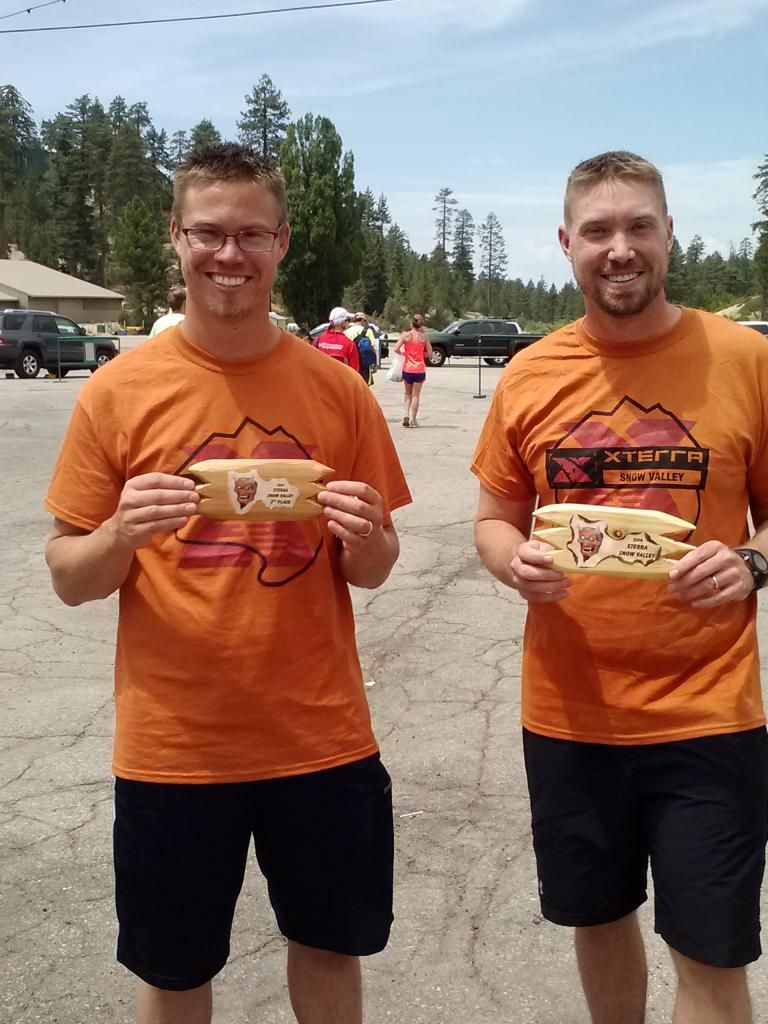 My Brother ended up with 3rd in his age group for the 10K
I am really happy with how my race turned out. I would have preferred a more even 10K split but I ran strong and was able to really push myself. Every race I have done this year I can see vast improvements in my performance both physically and mentally. I am recovering this week but I already can't wait till my next race.
I really like the Xterra Snow Valley event. Everything is really well done. The swag bag had several goodies, registration is super fast, plenty of actual bathrooms, lots of parking, course is amazing and well marked, aid stations are in perfect spots, and the post race food was great. I am definitely coming back next year.