Greetings! The last several months I have been stuck in a quandary. I would like to donate blood but my running as been going so well that I find it hard to find enough time for it. It isn't necessarily the hour it takes to donate that is the problem but the several days after that it takes until my running feels back to normal. I used to donate my blood on a regular basis. Well, maybe not on a regular basis but a few times a year. I hate needles, so give me a break. Then I learned that my blood was useless and all these years I have been donating, they have been taking my blood just to humor me. You see, my blood type is AB+ which means the only recipients are other AB+ people. According to
oneblood.org
, AB+ makes up only 3% of the population. So I can imagine gallons of my blood sitting on shelves until they expire and then disposed of. So all that fear and stress of donating my blood was for naught.
As you can see, I can take blood from everybody and give to only one. Mua-ha-ha.
(source)
I have recently learned that the plasma of my blood is universal and therefore is the preferred donation from me. The problem with that is, it is a longer process and I have already stated that I am a baby and don't like needles. It is bad enough to lay there for 15 minutes for whole blood donation but having to lay there for an hour. For me that is the equivalent of rolling around on an ant hill for 15 minutes or 60 minutes. But because I am a glutton for punishment, I wanted to find out
excuses not to donate
how plasma donation would effect me and my training. I discovered through the inter-webs that plasma donation is actually better for active folk in terms of how it effects training. Donating plasma has a much shorter recovery time in comparison to donating whole blood. According to this article in
Runner's World
, research shows that after 48 hours your performance will be close to normal after donating plasma versus 7 days with whole blood.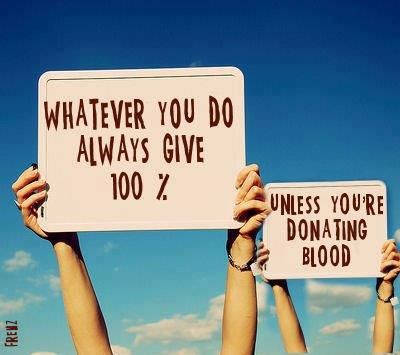 So now I just have to figure out who I need to talk to about getting rid of the really personal cryptic questionnaire they ask you in front of everybody. Why ask me if I ever received blood in Europe in 1980 every time I donate? Do they believe that I created a time machine from the last time they asked me two months ago? Even if I did create a time machine I think I would have better uses for it than to travel to 1980 and collect Foreign blood.
Anyways, I am sure you guys are bored to death about blood now. I will leave you with a little personal fun fact:
Mrs. Speedypants and I both have the same rare blood type of AB+.
What blood type are you and do you donate?