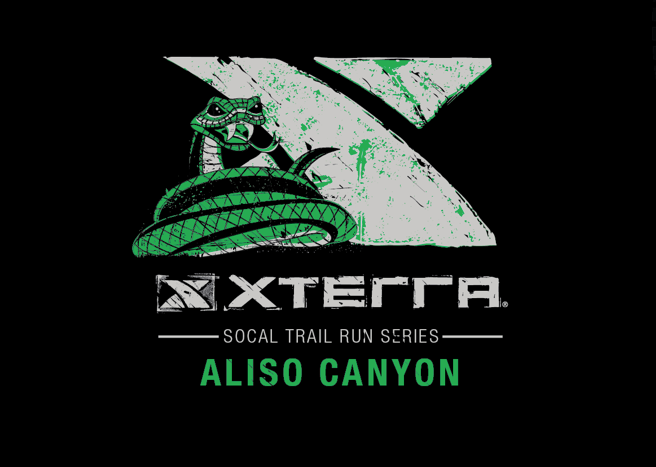 I hope everyone had a wonderful weekend. I certainly had a great weekend and I am going to tell you all about it. But first I'll tell you about how my race went since that is probably the only reason you are reading this blog post.
(warning: the color orange is rampant in this post)
Before
The Xterra Aliso Canyon trail run is held on a Saturday while all the other races of the Xterra So-Cal series are held on a Sunday. So on Friday after I got off of work I did some last minute packing and then my family and I headed off to Orange County. Of course as soon as we leave I start remembering stuff that I forgot to pack such as the food I planned to eat before the race and my Garmin heart rate monitor strap. I have only been really wearing and paying attention to my heart rate monitor for a couple of months so this was the first race I really planned on racing by it. But that was not an option anymore. Thankfully I remembered my Garmin watch, which I have had actual nightmares of arriving at a race without. So it could have been worse.
Race Day
Our hotel was 10 minutes away from the start but as I have learned in some of my past races like
Xterra Black Mountain
and the
OC Marathon
that I should still plan on arriving extra early or I'll be late. Luckily for me, we had no issues with getting our free hotel breakfast, arriving at the race, and finding a parking spot. Mrs. Speedypants and the kids decided that they were going to volunteer at this race so they
could be distracted from the excitement of waiting for me to finish
wouldn't be bored. So they headed off to the volunteer tent as I went to pickup my race bib. Afterwards I met a blog reader of mine, Wally. He was very nice and of course I was awkward. Later I looked up his race times and our times are very close so I am looking forward to racing him again in the future.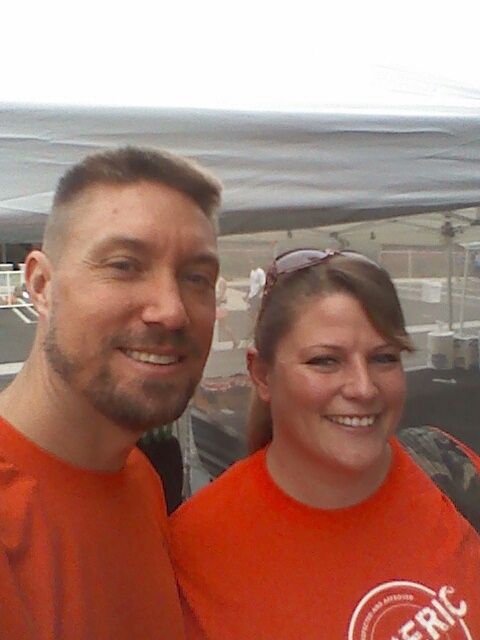 Pre race selfie
The family that matches together, stays together.
At 7:45am the race started and I was stuck in the port-a-potty line. Of course I was going to miss the start, why wouldn't I?
At 7:48ish I started my race.
Miles 0 - 4 - The first mile was really fast for me. It was downhill, I had race adrenaline, and I was minutes behind everyone else. By 3 miles I realized I was still running too fast and going at my 10k pace. I actually caught up to the race though. This first part of the course was shaded and beautiful and I was feeling good.
Mile 4-5 - This was the big climb up out of the canyon. I just hiked as fast as I could up and I actually passed a few other runners.
Miles 5-8 - These miles were rolling along top of the ridge where we were exposed to the sun. It was a reminder that it is still summer in Southern California. I was able to keep a good pace but my legs were starting to feel heavy from the constant uphill and downhills.
Miles 8 - finish - Mile 8 was steep downhill back into the canyon. I bombed down as fast as I could safely. By the time I was at the bottom my legs felt like lead. Looking back at my splits I was still moving well but it felt like I was running in slow motion and the hot humid stagnant air in the canyon was like a sauna. I finally reached the finish and I was drenched in sweat, and water that I poured on myself. I got to see Mrs. Speedypants at the finish line and my son and daughter were passing out the finisher medals.
Official Time: 1:38:45
Overall Place: 121 out of 225
Age Group Place: 14 out of 19
My Unofficial Time: 1:35:16
Overall Place: 102 out of 225
Age Group Place: 13 out of 19
Race Summary
I feel that I did the best that I could. I am very happy with my splits. My loose goals for this race was to finish in 1:30:00 and I was really close to that. My other goal was to finish top 15 of my age group so I would earn Xterra race series points. Earning Xterra points has been a goal ever since I started these Xterra events and this was the first time I achieved that goal. I really liked the t-shirt that was given out but the finisher medal was tiny. it is by far the smallest medal I have ever gotten. Other than that the course was great, and the family had a fun time volunteering.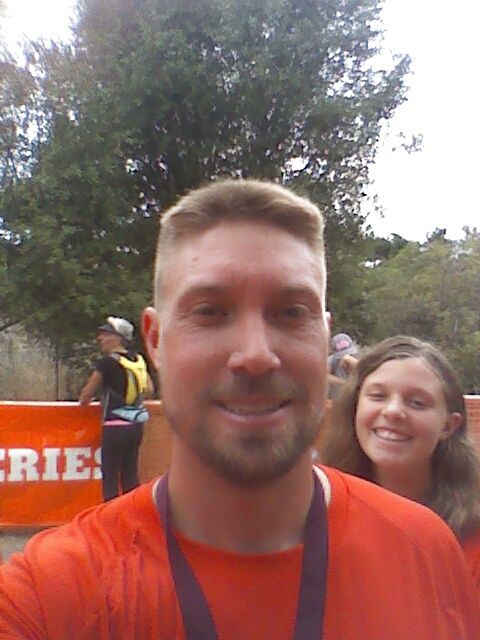 After race selfie and photobomb from my daughter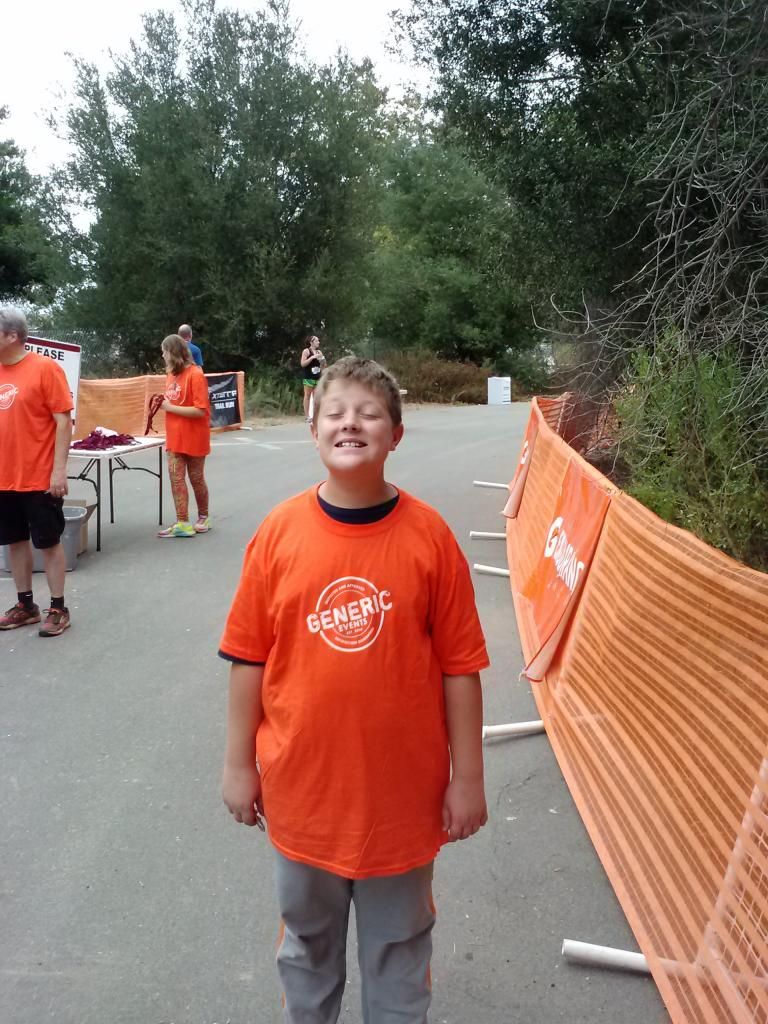 Son hard at work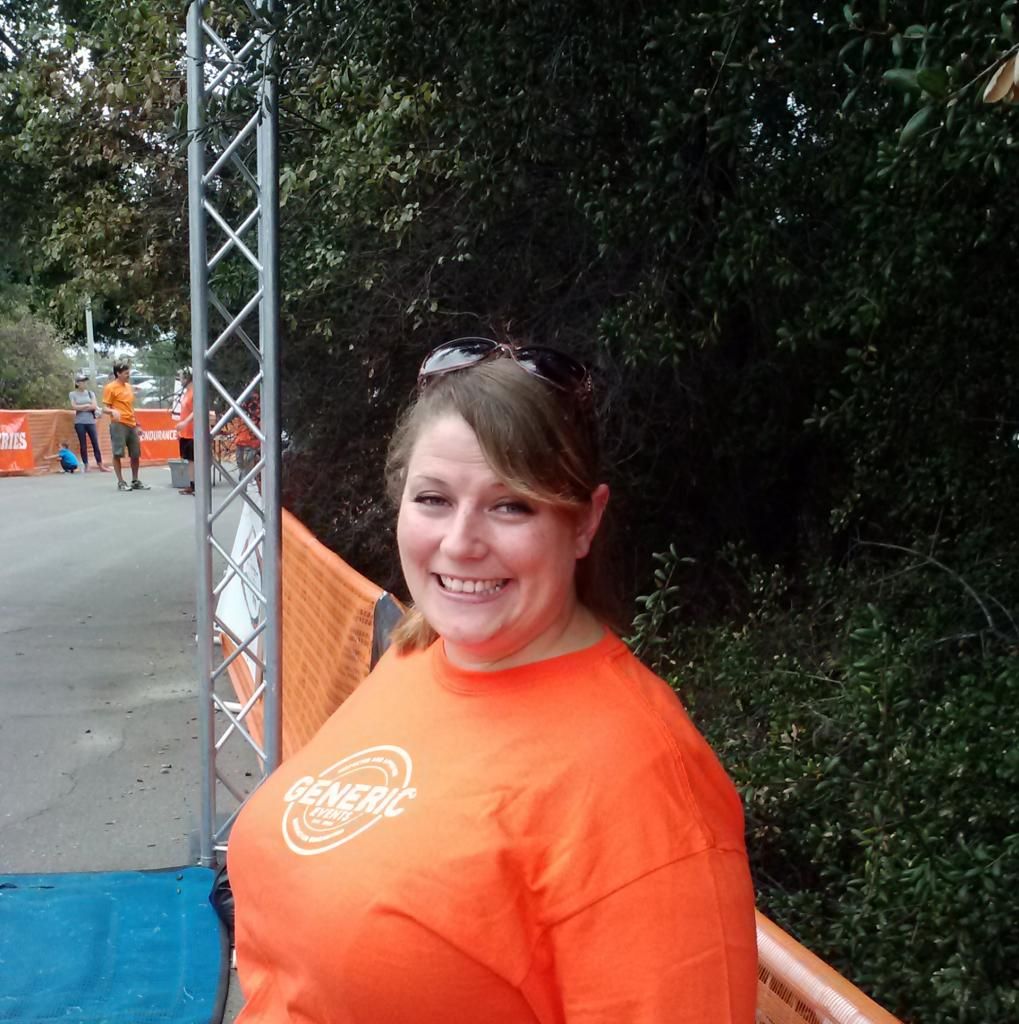 Mrs. Speedypants hard at work at the Finish line
Rest of the Weekend
After I showered and changed we went to Panera Bread for lunch. If I can't get my IHOP or Denny's after a race than Panera is the next most awesome place to devour all the things. I had sweated so much and ran so hard at the race that my leg muscles kept cramping up so we went back to the hotel and I did some self leg therapy by alternating time in the cold pool and the hot tub.
In the evening we all went to Big Air Trampoline park. The kids had a blast jumping off the walls and it was surprisingly fun for us adults as well.
Sibling battle royale
I'm the biggest kid in line.
Foam block pits are impossible to get out of.
Sunday morning we all came home to our normal lives. Mrs. Speedypants went to work and I lounged around watching Football and rested my legs.
It was a great weekend.
Tell me all about your weekend.