Holy haberdashery, Batman! I finished! It was hard but I finally completed my very first marathon. Going into it, my training hadn't been exactly where I had wanted (who's ever is?). In the weeks leading up to my marathon I had sickness, work, and holidays all taking over my free time for training (and blogging). But, in the end I survived and have learned a lot about what I can accomplish, or something like that. :)
Before the Race
I had way too much going on the day before the race. Do not try this at home kids.
6:30am - 3:00pm - Worked.
4:00pm - 5:00pm - Pickup kids and pack for the weekend.
5:00pm - 7:00pm - Mrs. Speedypants' company Christmas party.
7:00pm - 9:00pm - Co-worker going away party.
9:00pm - 12:00am - Finish packing and nap until Mrs. Speedypants gets off work.
12:30am -2:00am - Drive to Las Vegas, I nap in the car while awesome spouse drives.
2:00am - 3:00am - Check into Hotel and then go to sleep.
6:30am - Wake up to get ready for Marathon.
I had read that the sleep and rest you get in the week leading up to your race is more important than the night of. I definitely was hoping that it was true.
Race Day
We arrived at 7:30am and since the race doesn't start till 8am I had time to pickup my race packet and do a little stretching. It was a little on the chilly side waiting around for the start of the race but I knew that I would warm up real quick as soon as I would start running. It had been windy on the drive to the race which had me a little worried because if there is one weather element that I despise running in, it's the wind. But luckily for me it ended up being a non-issue because the hills and mountains we were running up and through blocked all the wind.
The course is an out and back 13.1 mile course and so I would be doing it twice. The course and views were so amazing that I really did not mind doing the route twice.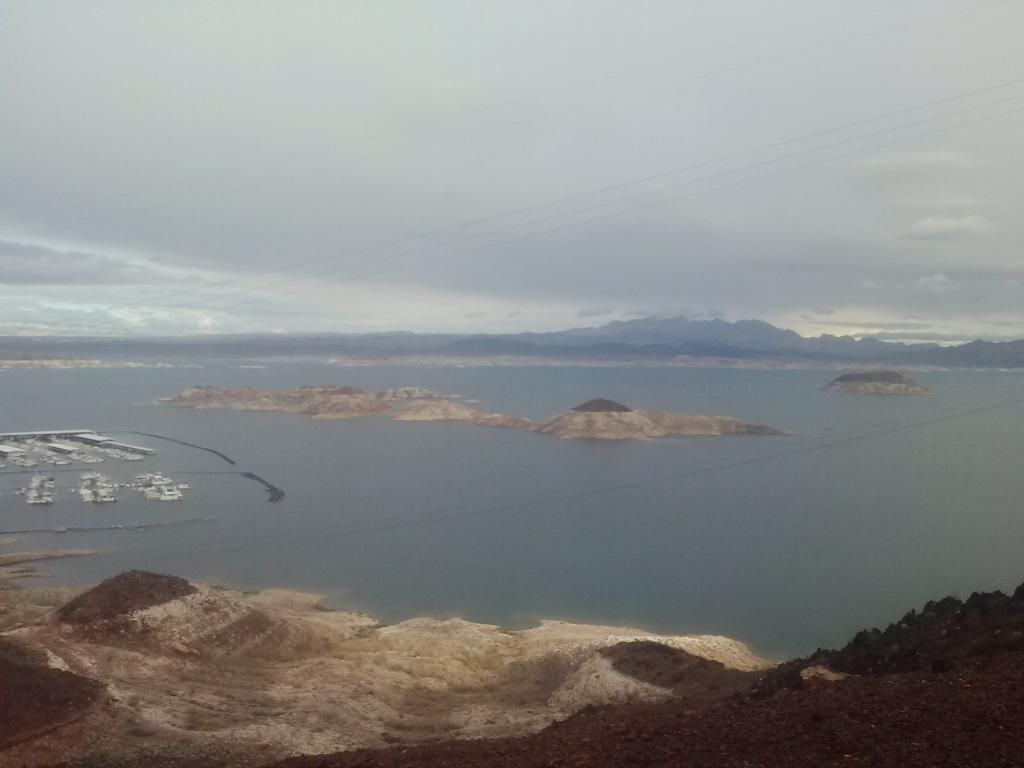 View of Lake Mead with perfect weather.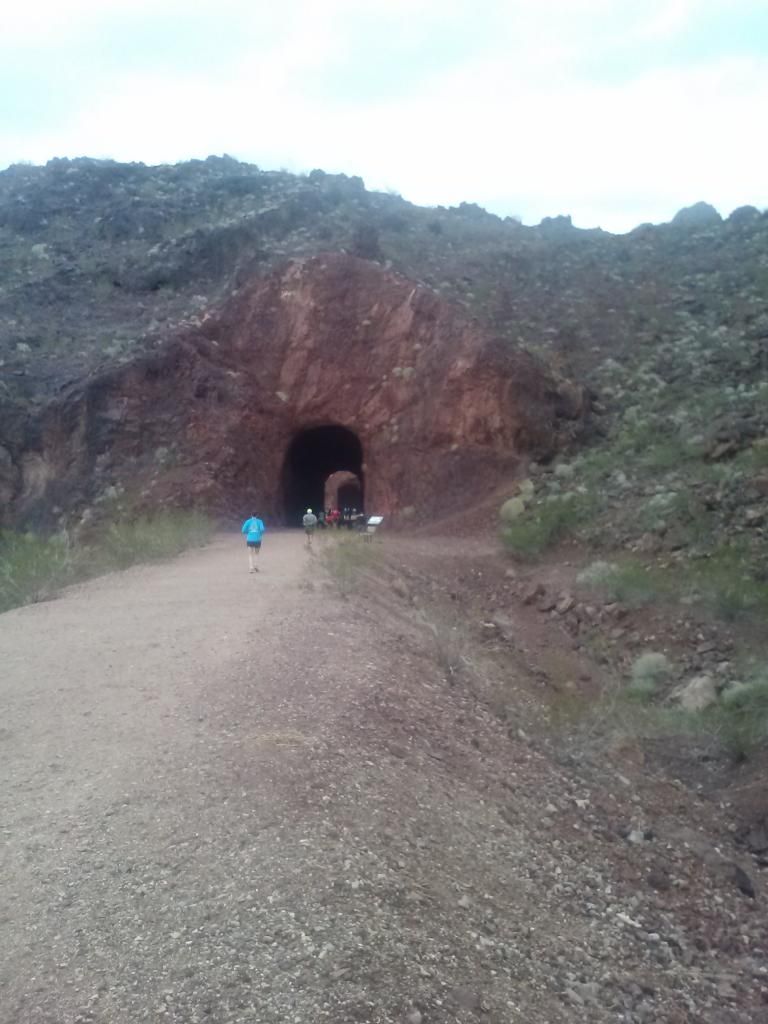 One of the many tunnels.
The Race
Miles 0 - 5: This is all uphill. It didn't look like much on the elevation chart but it really is a significant climb. The good thing about all the climbing is the views of Lake Mead and the surrounding mountains that you get to witness. Much of the course follows an old railroad trail so you get to go through several tunnels carved in the mountainside. At mile 5ish is when you get the fantastic views of the Hoover dam. This is also where the turnaround point is.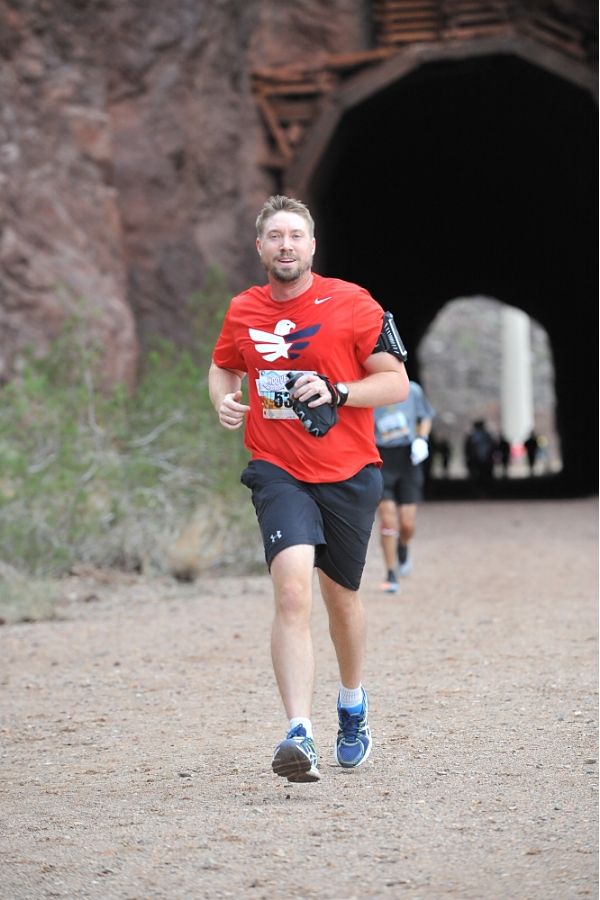 Miles 5 - 13.1: Finally downhill. Was able to really keep a good pace but even though it is downhill, I feel I might have used too much energy. I was feeling too good and having too much fun. I also had a lot of race left to do. I hit the half marathon mark at about 2hr 14min.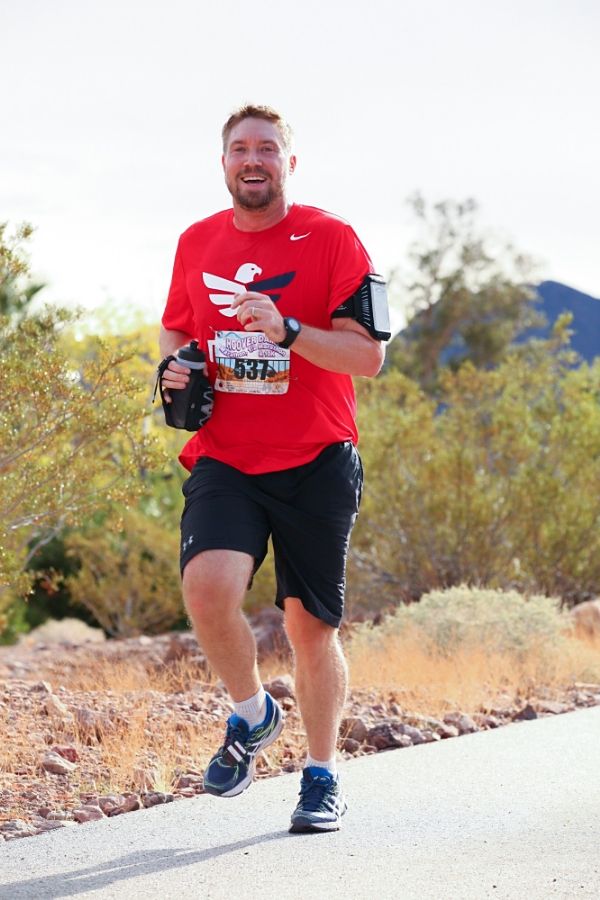 Miles 13.1 - 18: Back up the hill. I was starting to feel the miles on my legs so I popped in my headphones to help me mentally grind out the climb. I was able to keep running and pass a few other runners. The views and the music really helped.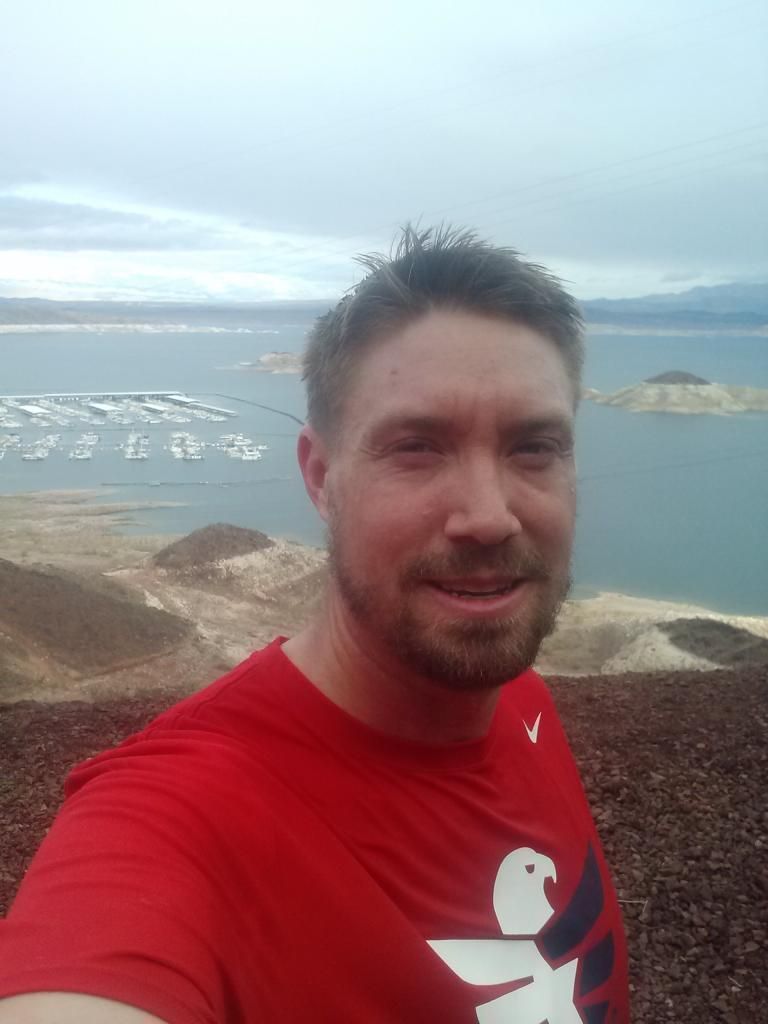 Miles 18 - 26.2: Even running downhill was hurting. At about mile 22 my legs were toast. I had to resort to walking a minute and running a minute for a couple of miles. I was definitely hurting and my legs just did not have anything left. The last couple of miles felt like hours and I was never going to reach the finish line. When I reached the last quarter mile I finally was able to see the finish line. Mrs. Speedypants came up to me and we ran the last 100 yards together to the finish.
Official Time: 4:49:09
Overall Place: 89 out of 164
Age Group Place: 15 out of 21
Fuel
I ate an Egg McMuffin breakfast sandwich for breakfast. Not ideal but it was better than nothing. For the race I carried water with me in my hand held water bottle so I could continually sip water. Even though it wasn't a hot day I know the importance of hydration. I also drank HEED (electrolyte drink similar to Gatorade) at all the aid stations. I also was relying on the Gels that they provided at an aid station on the course. I did make the mistake of not picking up a couple of gels when I passed the aid station the second time which most likely had an effect on my energy levels at the end of the race.
Summary
I really feel like I had a great race. It was a much tougher course than I had expected but that just makes the feeling of accomplishment even more sweeter. The weather was perfect, the volunteers were amazing, the course was beautiful, and the entire event was great. I am very happy with my sub 5 hour finish and hope to be back in 2015 to do this race again.